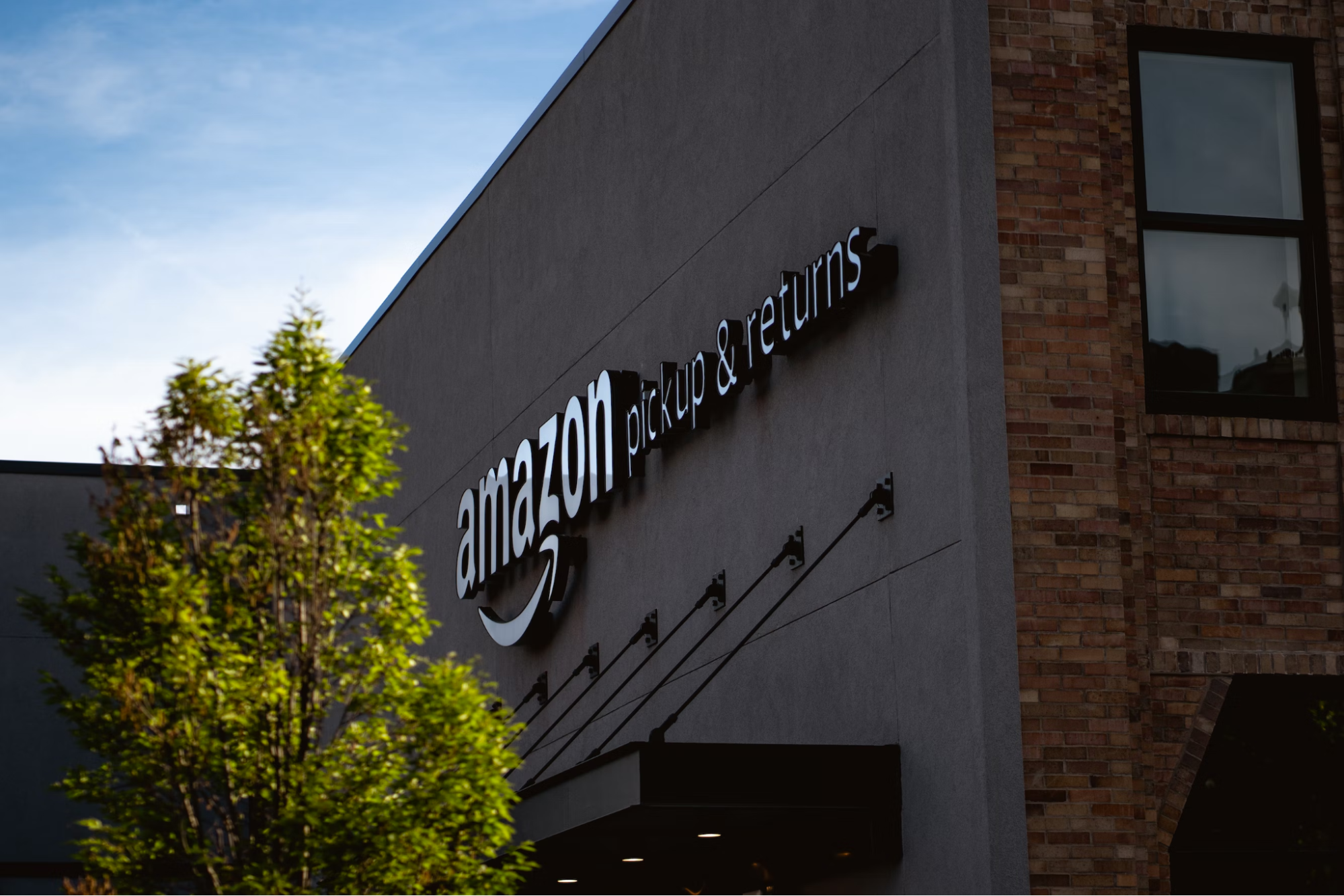 Have you been recently invited to migrate to Amazon Vendor Central?
It's tempting to make the switch. After all, if you receive an invitation, it means that you're doing really well in terms of sales and you've built a strong brand on Amazon.
But while it certainly does add a lot of prestige to your store, you do need to note that there will be changes to your business as a result.
So if you need more information on whether you should jump to Amazon Vendor Central or stay with Amazon Seller Central, look no further than this blog. We'll take a look at the pros and cons of both, and what ultimately you should choose.
Let's get to it, shall we?
What is Amazon Vendor Central?

Amazon Vendor Central is Amazon's portal that is strictly by invitation only, which is why there's no signup option when you go to the site: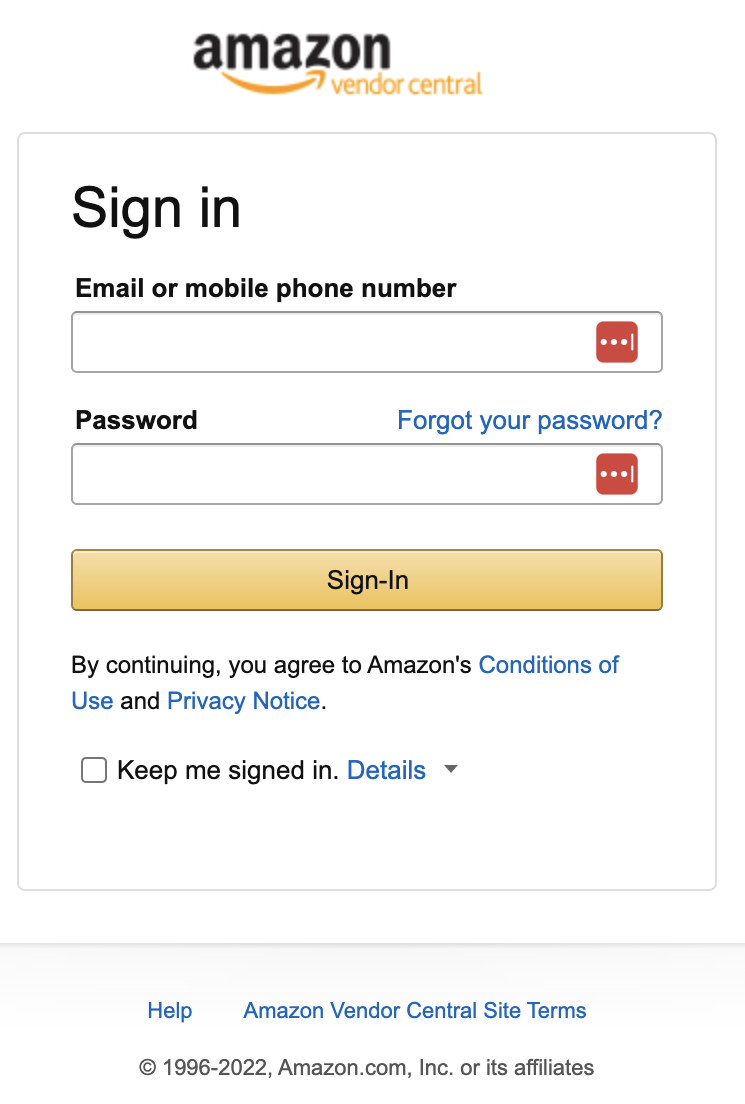 You can try to request an invite from your Amazon buyer, but there are no guarantees that you'll actually get an invite.
Amazon Vendor Central focuses on first-party vendors or companies that can supply products in bulk. One main thing to note here is that when you get on Amazon Vendor Central, you will no longer be selling ON Amazon. Instead, you will be selling TO Amazon and acting as their supplier.
Amazon will buy your items in bulk and resell your products to consumers. You'll know which items are under Amazon Vendor Central since they will be marked by the words "Ships From and Sold By Amazon" on Amazon product listings: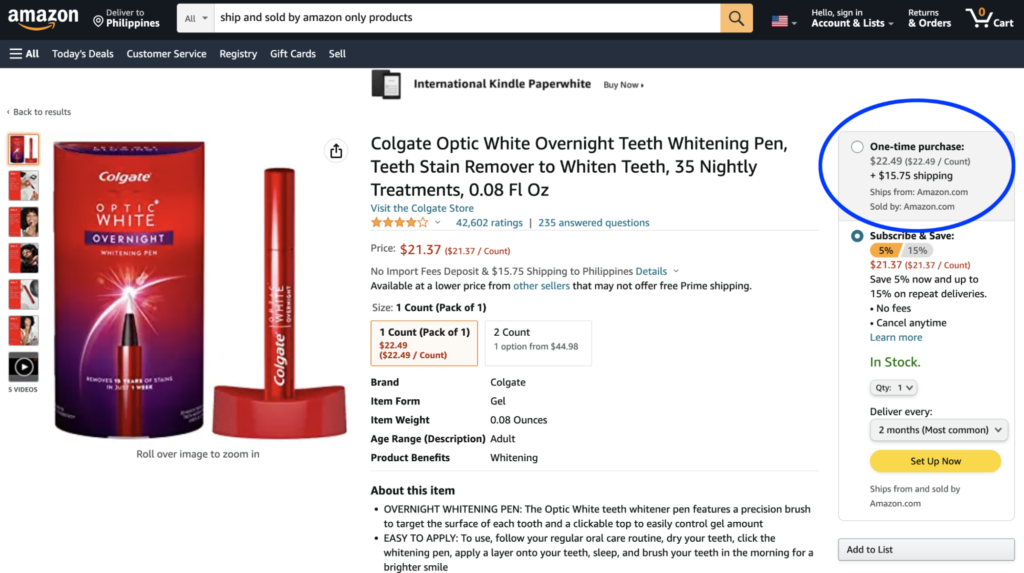 Essentially, your products are now owned by Amazon, which means the company will control how they want to price the product. And since all fulfillment will be handled by Amazon, your selling process will be much simpler.
But you might like this especially if you don't want to have to deal with customers directly.
You don't have to think about things like tax liabilities for example. All administrative responsibilities will be taken care of by Amazon themselves.
Plus, you'll also get multiple and better advertising options via Amazon Marketing Services.
But probably the most important part is that since your items will be under Amazon directly, customers will feel more confident about purchasing your products. After all, you get the benefit of the Amazon brand name trust and recognition, as shown by a survey where 89% of the respondents said that they're likelier to buy products from Amazon than other websites.
What is Amazon Seller Central?

Amazon Seller Central on the other hand revolves primarily around third-party vendors and the less common second-party vendors. These vendors can be businesses as well as individuals. Anyone can join and be an Amazon seller.
When you sign up for an Amazon Seller Central account, you will be in charge of setting up and maintaining your seller account. There's a free plan, but there's also a paid professional seller account, which offers analytics tools, favored marketing treatment, and many other features that you can use to grow your business.
One important difference from Amazon Vendor Central is that you are still the one that sells directly to customers. That means you'll have to take care of everything like publishing product details, checking orders, monitoring your inventory levels, and more. But if you're the type to be hands-on, being an Amazon Seller might be the option for you, especially the part where you maintain control of pricing.
Of course, you can still give Amazon some participation in your sales process, aside from them listing your product on their website. When shipping your items, you can choose "Fulfillment by Amazon" where Amazon takes care of picking, packing, shipping, and even the return of your item if necessary.
If you choose Amazon's 3P model, you also maintain control of your products and your pricing. You decide if you are going to fulfill your products through Fulfillment by Amazon (FBA), Fulfillment by Merchant (FBM), or Seller Fulfilled Prime (SFP). If you choose FBA, Amazon takes care of picking, packing, shipping, and returns.
Choosing FBA will give you many benefits such as lower cost of shipping as well as faster arrival time for your customer.
What are the pros and cons of both?
What are the pros and cons of both?
Here's a table for a "quick glance" summary of the pros and cons of both options. Take note that the features (which are in no particular order) can be pros or cons depending on whichever Amazon portal you prefer.
| | | |
| --- | --- | --- |
| | AMAZON VENDOR CENTRAL | AMAZON SELLER CENTRAL |
| Who can join? | Distributors or Manufacturers who have been invited to join | Anyone who wants to sell on Amazon |
| Who can you sell your items to? | Amazon | Directly to customers |
| Who handles fulfillment to customers? | Amazon | The seller or Amazon |
| Do you get marketing tools? | Yes. | Yes. |
| When do you get paid? | Every 30 days | From 7 to 14 days |
| What kind of support do you get? | A dedicated account manager | Contact Amazon via Seller Central account |
| How often do you get orders? | A fixed pace from Amazon | Depends on how well your store is doing |
| How much will you earn? | Depends on how much Amazon buys from you and how much Amazon makes you lower your cost | Depends on how much you price your items minus Amazon and other fees |
| Does Amazon prioritize your products? | Yes, with Amazon's 100% rating | Not so much |
| Will your brand stand out? | Not likely, because they will come in a generic Amazon box. | Yes, because you can personalize your packaging and customer experience. |
However, there are four more specific differences between both Amazon portals that you should keep in mind.
4 core differences to know to avoid hidden charges
These 4 core differences may be the ones that ultimately swing the balance to whichever Amazon business model you're already considering. Let's take a look at each one.
1. Product price
What kind of pricing can you set for your products?
For Amazon Vendor Central: Since you'll be selling directly to them, Amazon will do what it can to lower your price. After all, they'll want to make a profit on your items selling them, not just break even.
Once you've set your price, Amazon will contact you if they want a reduction. Unless you're a big brand that can stand up to Amazon, you might end up completely at its mercy.
You can take heart because Amazon has said that it honors any MAP or Minimum Advertised Price request. However, if they don't do it for you, there's really nothing you can do, especially since they prioritize giving customers the lowest price – all at your expense.
The end result, unless Amazon sells more of your items, you might end up breaking even only, or worse, end the month at a loss.
For Amazon Seller Central: If you choose to stay on Seller Central, you can control your product pricing. So whether you want to decrease your price, increase them, or run promotions, Amazon cannot dictate to you what to do.
If you have good business savvy, you'll easily make a profit.
2. Fees
How much will you be charged for using each platform?
For Amazon Vendor Central: Aside from the lower profit, you'll have to pay Amazon for the following fees: marketing, remittance, co-op, and packaging. The justification here is that they are doing everything for you.
Do note that these fees can vary each month, and again, if Amazon does not sell enough of your products, you'll end the month at a hefty loss.
For Amazon Seller Central: As an Amazon Seller, you can choose between an Individual Plan or a Professional Plan. The Individual Plan will cost you $.99 per item sold, as well as referral fees and variable closing fees, depending on what you're selling.
The Professional Plan is $39.99 monthly, plus the referral above and closing fees, but it also gives you access to more tools and features.
3. Inventory management
Inventory management is important, because if you oversell, Amazon might penalize you or altogether prevent you from selling on their platform ever again. But who takes care of it?
For Amazon Vendor Central: Since you're selling to Amazon directly, they will be the ones in charge of re-ordering. However, Amazon is well-known for suddenly declaring your products as "Not Available" without even informing you that your stocks are low.
It's actually a good problem. Amazon prioritizes selling your items, but of course, it's not helpful if they don't inform you of low stocks.
That only means you'll have to be as proactive as possible in terms of inventory. Otherwise, you might get slapped with a penalty and you'll be left wondering why.
For Amazon Seller Central: Amazon will give you access to inventory management tools, especially if you use the "Fulfilled by Amazon" option, but ultimately, it will be up to you to take note of which items need restocking. You'll also have to pay Amazon a fee for stocking your items.
4. Chargebacks
Chargebacks are fees imposed on Amazon vendors who do not follow the rules. For example, if a customer gets an item that was not what they ordered, the customer is entitled to a chargeback. But how do you deal with a chargeback?
For Amazon Vendor Central: The problem with Amazon Vendor Central is that a chargeback may happen but Amazon will not tell you that it has happened long after it has happened. And it's hard to trace!
For an easier chargeback experience, it's best to get the services of RefundsManager so you won't be wrongfully charged the fees associated with the transaction.
For Amazon Seller Central: In Amazon Seller Central, you'll be informed via email or the platform. At least you'll know and can dispute it if the charges are not justifiable, or fix it if it's really your fault.
So, which should you pick?
In a nutshell, when deciding whether to go with Amazon Vendor Central or Amazon Seller Central, you'll be deciding whether you want a "done-for-you" service where you might earn less but also have less hassle when it comes to running your business, or a platform where you'll have the ability to have more control, but will have to deal with more work.
It's really up to your working style
And while you can have both kinds of accounts, we recommend just choosing one. That way, you can focus on growing your business instead of having to navigate through two business models at once.
Of course, whichever you choose, you're likely to encounter problems in the future with Amazon FBA. Nothing's perfect, after all.
But for less headaches, make sure to use RefundsManager to recover money for Amazon Vendor or Amazon Seller Central mistakes. That way, you don't waste time tracking and filing FBA refund claims, and you are assured that you get the money that Amazon owes you.
Try it for free today!