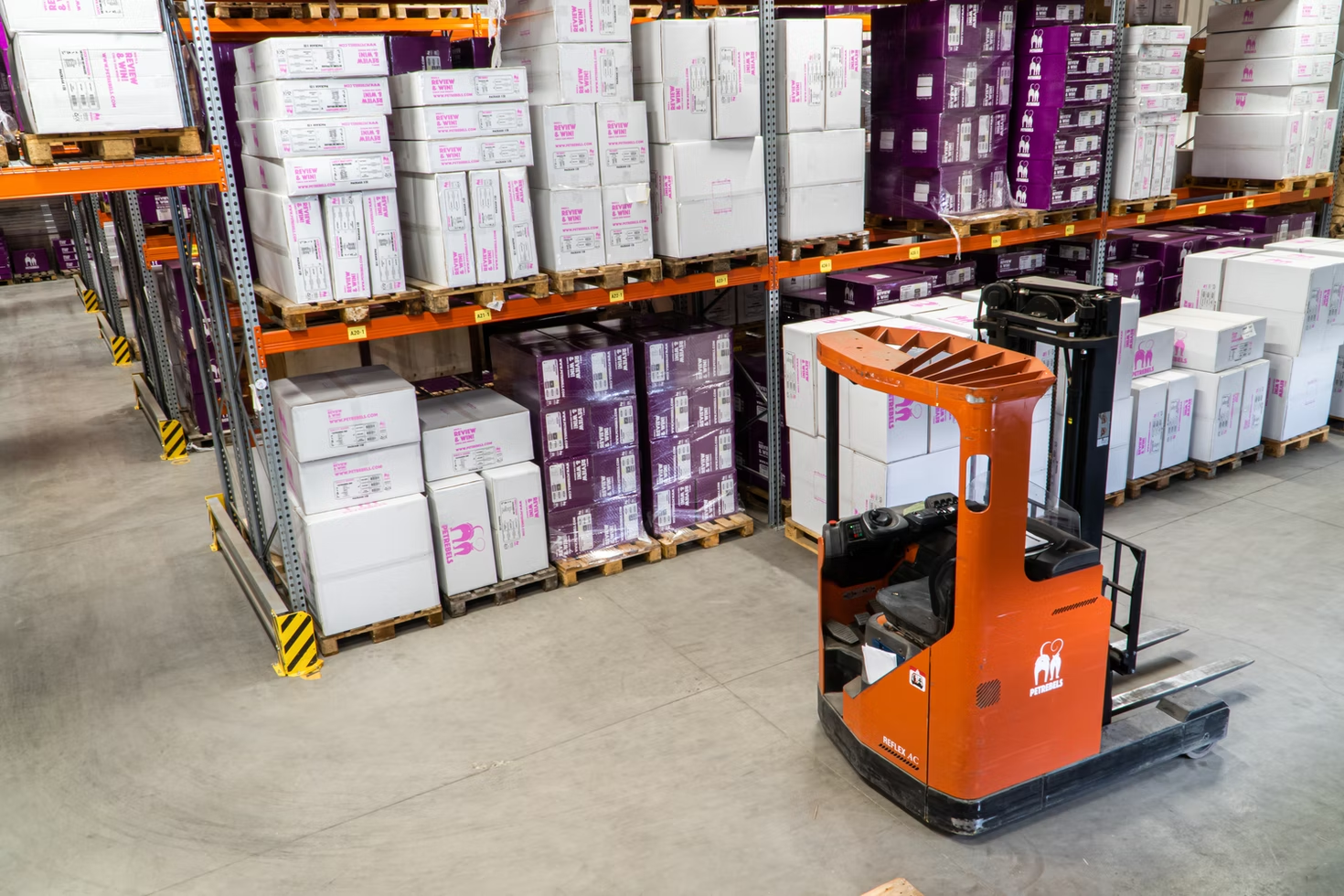 Source – Photo by Petrebels on Unsplash
Just how important is Amazon inventory management? Well, you'll be surprised at how it affects your business on a larger scale.
"Out of stock."
"Currently unavailable."
"Item not available."
These words frustrate customers and cause sellers to panic. Now, visualize this.
Your Amazon store inventory has run out, but customers were expecting to buy from you. Or your stocks run out during Black Friday, Cyber Monday (BFCM), or Prime Day.
What happens next?
That's lost revenue right there and then. 21% to 43% of shoppers will just head over to another store to find a similar item.
Running out of inventory will eventually snowball into a business issue. This is why inventory management should be top of mind for every Amazon seller.
What is inventory management and why is it important?
Inventory management is the entire process of moving products along the supply chain. This includes:
Sourcing raw materials
Transporting finished products
Storing products in warehouses
Selling the products
So it's not just making sure that there are stocks to be sold.
"Why not just always ensure there are excess stocks?" is a common question that new sellers often ask. Nope, that's not going to work.
You see, when you hold your stocks or inventory, there is a counterpart "holding cost." Unfortunately, the cost of having too much inventory is huge and can result in losses.
The main goal of inventory management is to minimize the costs of holding and storing stocks by knowing when the right time to restock is.
By implementing a systematic process, you can maintain the optimal inventory quantity—not running out of stock but also minimizing costs.
Having a systematic Amazon inventory management strategy and system in place will help you avoid the following outcomes:
1. Lost sales and falling behind the competition
If you're using FBA, you have to order from your suppliers and ship the inventory to Amazon for them to process. Be a few days late and you could end up having nothing to sell for weeks.
When abandoned sales pile up, they can translate into about $40 million worth of lost sales for a billion-dollar brand.
The negative outcome doesn't stop there.
Amazon's search engine can penalize your listings if they're not generating sales. What does this mean? Your listing will be tagged "inactive." Then you can lose your search ranking—which is difficult to get back.
2. No fresh reviews
According to 83% of shoppers, they trust reviews from others more than advertising methods. Not only that—the average customer will spend 31% more on a seller that has good reviews.
All of these statistics point to one thing: reviews are effective for generating sales. However, if you run out of stocks, then you also run out of new and fresh reviews.
Unfortunately, Amazon's search engine looks into the number of positive reviews a product has. Take a look and you'll notice that most listings that appear first are products with thousands of 4-star reviews.
3. Disappointed customers
Customers who were looking for something but were greeted by a "not available" sign will just end up looking elsewhere.
It's not just that one sale that you lost—80% of customers no longer want to engage with the same store after a bad experience. You've lost them for good.
How does having an Amazon FBA inventory management help me?
Amazon FBA can help streamline and automate your inventory management. This includes:
Demand planning and forecasting
Maintaining optimal inventory levels across warehouses
Monitoring sales and deliveries
Avoiding stockouts
Keeping track of old inventory
An Amazon FBA inventory management system will ensure that you have just the right inventory to meet your orders—but not too much that you'll need to pay late storage fees.
As a result, the movement of your products will be smooth-flowing and continuous. You'll know when exactly to replenish inventory just before stocks run out.
Additional benefits of having an Amazon FBA inventory management:
1.Automatic updating of inventory
No need to manually update your record book or spreadsheets! Since Amazon handles the whole fulfillment process, the data is logged right away. Every time a product is sold or returned, your inventory will automatically reflect this without you having to do anything.
2. Comprehensive tracking
An Amazon FBA inventory management also makes it easy for you to trace any package and its location. This is automatically reflected in your inventory and other integrated channels.
3. More time to focus on other business aspects
Running an eCommerce business should not be all about managing inventory. You still have the accounting, marketing, customer support, and overall strategy to think about.
With Amazon FBA inventory management, you can focus on other top-level aspects of your business while your inventory and fulfillment run seamlessly n the background.
4. Automatic handling of refunds
While Amazon FBA is convenient—after all, they handle your logistics, shipping, and even customer returns. However, with FBA being a pretty big deal already, there will be errors every now and then.
You'll be surprised that Amazon might owe you some reimbursements due to damaged items, lost shipments, or if the customer doesn't return the item.
Tracking these refunds manually will be an even bigger headache so it's also worthwhile to look into tools like RefundsManager that can recover your profits.
5 Amazon inventory management best practices
Whether you're a new Amazon seller or a seasoned one, you will still benefit from these timeless strategies.
1. If you're not yet using FBA, use it now
Signing up for FBA deserves a spot on this list because it already removes a lot of the manual processes for eCommerce store owners for a small fee. Here's a quick list of pros:
Amazon does all the work for you when it comes to packing, shipping, and logistics. You just need to monitor your listings and ensure that Amazon has stocks.
You'll end up saving less on shipping costs through the FBA platform compared to if you're managing your own fulfillment.
Refunds and returns are also handled by FBA.
Piggyback on Amazon's customer service platform for FBA sellers.
Automatically get the Prime badge. Customers who order from you are also eligible for Prime free shipping and faster delivery—more reasons to encourage them to order from you.
No need to worry about storage space. Amazon FBA gives you access to unlimited storage space (for a minimal fee).
Get access to other multi-channel fulfillment solutions. Amazon Mult-Channel Fulfillment (MCF) allows sellers to sell on various platforms and channels while they take care of fulfillment.
Steps and requirements for signing up for FBA:
Add FBA to your existing account.
Organize your product listings. Here's how:
a. You can either add manually to your catalog or integrate your inventory management software with Amazon's API.
b. You can also just convert existing inventory to FBA by selecting "Change to Fulfilled by Amazon" from the Actions menu in your account.
Review the packaging requirements before sending off products to fulfillment centers.
2. Pick a management software that supports your sales channel
The right inventory management system depends on factors specific to your business: size, industry, types of products, and your selling platforms. It can be as simple as a ledger, a spreadsheet, or a full-on automated digital solution.
Regardless of which system you choose to go with, it must be able to do these at the very least:
Track products from procurement to delivery
Monitor products that are available
Show metrics like available shelf space, units in stock, and storage selection
Aside from these, the system should help you make top-level decisions such as how many units you need to order, your optimal inventory level, and when you should replenish to avoid stock-outs and wastage.
In other words, a system will help eCommerce business owners automate their inventory management and make the overall operations more efficient.
3. Synchronize inventory across business operations
Thankfully, most Amazon inventory management systems connect with the front-end of your business or what customers see.
While this is great and useful, what you need is a system that also syncs with the rest of your business operations. What does this mean? It should be easy for you to see how your inventory ties in with the rest of your business.
For example:
If there are successful purchases and deliveries, your accounting and finance system must also reflect this.
If there are customer returns and refunds, data between your two systems must flow smoothly from one to the other
If your inventory management system shows different data from what your finance system shows, you're going to spend late nights doing balance sheets and cash flow statements.
Look into the systems of your choice and see the available options for integrations. Remember, your getting a system to make it easier for you—not to make it more complicated.
4. Figure out your order frequency
Order frequency and optimal inventory level (also known as the economic order quantity) are the two crucial metrics in inventory management.
You need to know when you should order additional inventory. When your current inventory drops to a certain number, then you can replenish without worrying about running out or overstocking. Over time, you'll notice patterns such as specific months when the demand is higher.
Some inventory management systems have features that allow you to automate replenishment alerts and notifications.
5. Review your refund reports
Returns and refunds often mess up inventory and accounting.
Here are some examples. Sometimes FBA already refunds the customer when the customer hasn't returned the item yet. In this case, FBA should reimburse the business owner. Amazon loses an item or damages it. Or the customer damages the item before it's returned.
In all of these cases, Amazon FBA owes the seller refunds. But not to worry—Amazon already has policies in place for the management of returns and reimbursements. However, sellers must still continuously monitor and review the refund reports. After all, Amazon is huge and they're probably dealing with a huge number of cases every day.
Now, if the refunds are delayed, sellers must file formal requests and monitor the progress—all of which will require manual and repetitive work. The good thing is that systems like RefundsManager can handle all of this manual work. Their experts can do the tracking,
monitoring, and following up, while you focus on your business. Next thing you know, refunds will be rolling in.
Organized inventory management is key to maximizing profits
Manual inventory management is not only challenging, it's an open invitation for stress. With an inventory management system, you can manage your entire eCommerce strategy without worrying about manually monitoring your stocks.
Coupled with the right integrations, you can have a pretty automated system that alerts you when to replenish, and helps ensure you don't experience excess stocks and stockouts.
Finally, to maximize your profits, use RefundsManager alongside your inventory system so you can automatically keep an eye on inventory-related refunds. You'll be surprised at how much Amazon FBA probably owes you!