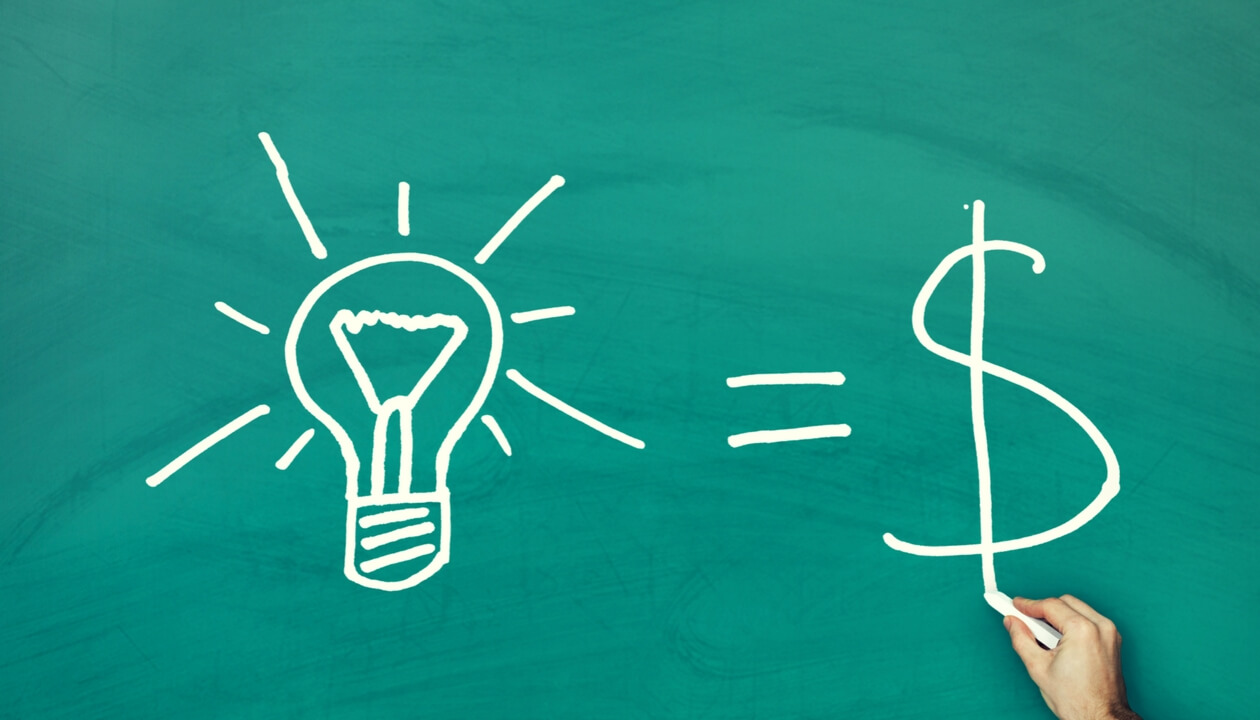 Getting Amazon customers to click on your product when they're scrolling down search results is partly about the featured picture and partly about the title.
Today, we're talking titles.
Are you doing everything right? Is your title up to Amazon's standards and compliant with their title style guide?
More importantly, is your title contributing to higher click throughs and conversions?
But first, the basics.
Amazon title style guide and best practices
To cut right to it, here are Amazon's guidelines for each and every product regardless of category:
Capitalize the first letter of each word
Spell out measurements
Don't spell out numbers
Do not include color (unless the product comes in multiple colors)
Only list size if it's relevant and important
Don't use the ampersand symbol (&) (instead spell out "and," but this time in all lowercase letters)
That's all just formatting. How do you work real marketing magic into your titles to increase sales?
Amazon has a recommended title formula for each and every category. These formulas exist for a reason—they give Amazon customers the exact information required. Be sure that any title you write includes these basic details.
Here's an example from the cutlery category:
Cookware, Cutlery
Style: Brand + Line + Size+ Product Type
Example: Calphalon Professional Hard-Anodized 8-1/2-Quart Saucier with Lid
We've all seen product titles that stretch much longer and include much more information than that. Amazon actually allows for up to 200 characters!
Don't feel the need to use all 200, though. Amazon's own research has found 80 characters to be the optimum length.
Now that you know the basics, let's jump into more expanded formulas that can help your product stand out.
1. The "Problem Solved" Adjective
One way to stand out to customers is to identify a key benefit of your product. How about one that really sets it apart from others because it solves an issue common to that product?
Let's take springform pans as an example.
This type of pan is a necessity for baking cheesecake, but it's known for leaking liquid during the cooking process. The two-part pan doesn't always seal perfectly, allowing for cheesecake mixture to drip out before it's fully cooked.
Take a look at this product: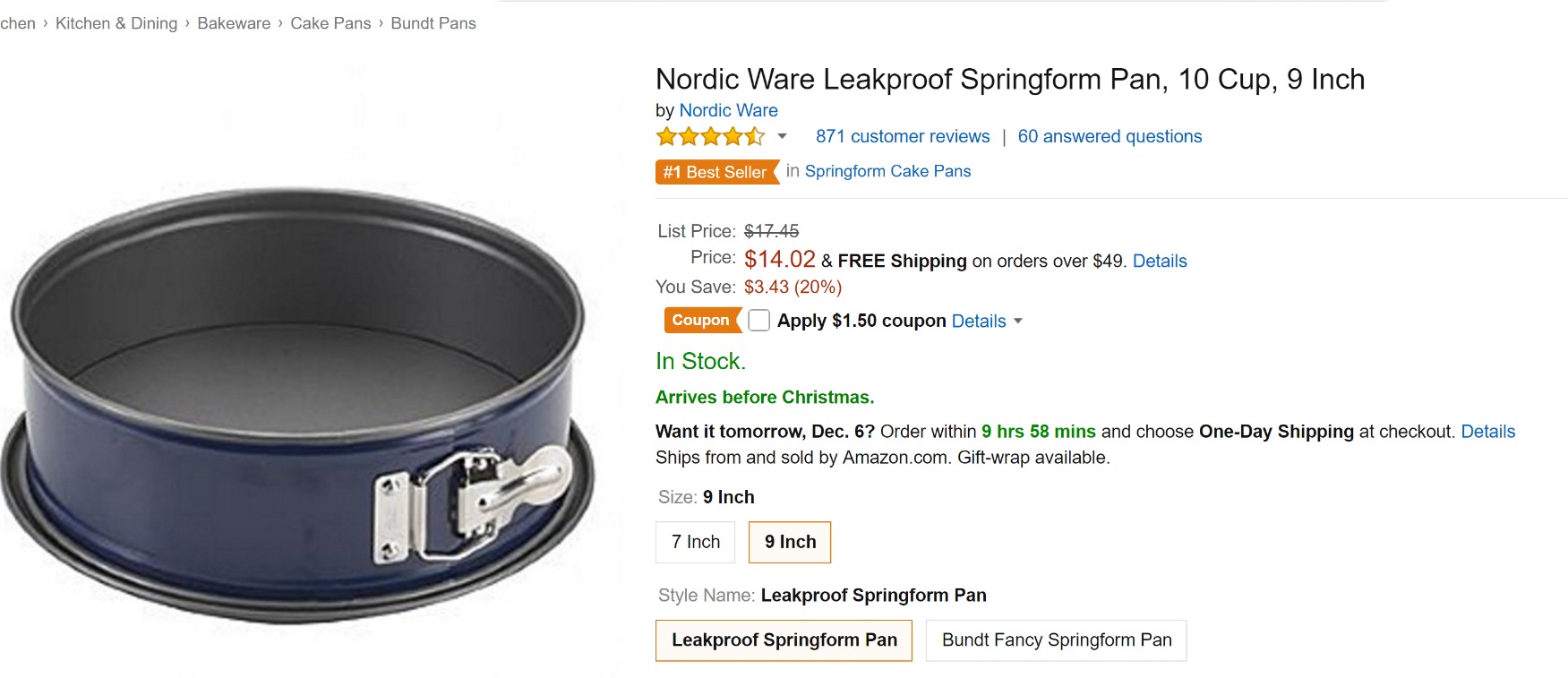 By adding "Leakproof" into the product title, this item is differentiated from competitors. Since the customer can clearly see that this is nonstick material, the phrase "nonstick" is kept out (which is not the case with many other springform pans on Amazon). By leaving certain words OUT, you allow for other words to garner more attention.
Here's the formula:
Brand + "Problem Solved" Adjective + Product Type + Size (If Needed)
2. The Use Case List
In this post, we discussed how SEO strategies for Amazon are different than they are for Google, and one of those differences is the need to represent a variety of use cases for your product in one page (as opposed to in several different pages or blog posts).
Let's say you're selling drinking straws with pink polka dots that could be used for a baby shower, a bachelorette party, or a girl's birthday party.
Showing these different uses in your title can not only capture more search traffic, it can also give shoppers who are viewing your product more ideas for how to use it than what they originally imagined.
But do this sparingly. Only put multiple use cases in a title if it truly seems necessary.
There are many products on Amazon who are very obnoxious in how they apply this strategy. The trick is to do it in a way that is easy to read and doesn't detract from necessary product details.
Here's a product that's doing this well: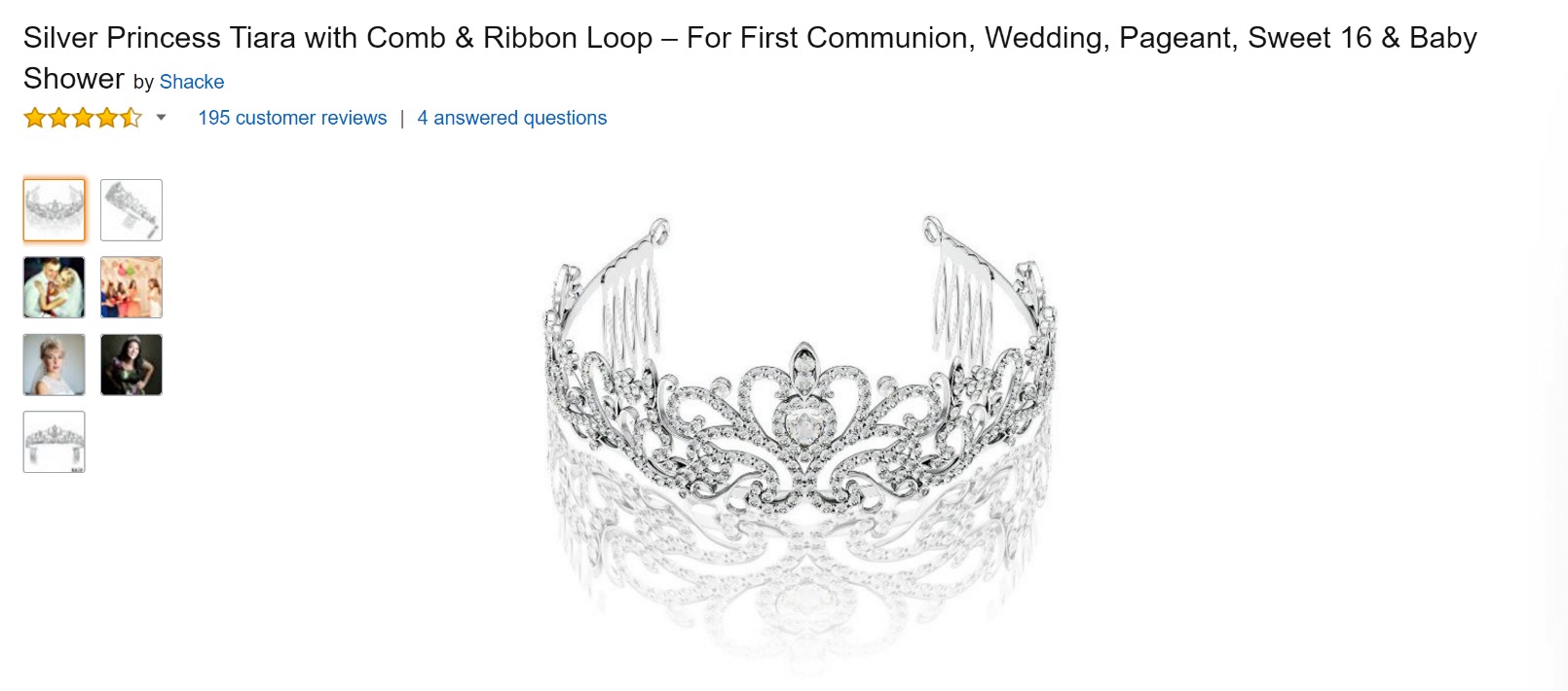 By putting the use case list at the end, the customer can still easily see all of the necessary product details, like the fact that the tiara has combs to keep it in place.
Notice how Amazon says NOT to include the color in a title, and yet here it's the first word? Yes, you can bend the style guide, and in this case it's wise to. Shoppers often search for jewelry and accessories in their chosen metal. An example of when not to include it would be repetition. So, "silver stainless steel" would be redundant and wouldn't be likely to give you a boost in search either.
Here's the formula:
Important Descriptor + Product Type + Additional Features + Use Case List
3. The Showoff
Adding some street cred is one way to take a great title and make it even better. You are allowed to add in any external awards won, but it's against Amazon's rules to include words like "Best Selling." If it really is best selling, you'll get the coveted orange tab.
The J-pillow is one of the strangest looking travel pillows on the block. Considering all the travel pillows that look like overgrown seat belts or inflatable torture devices, that's really saying something.
It's undeniable that the J-pillow is eye-catching. Let's say a shopper was expecting to see only U-shaped options when searching for "travel pillow."
Encountering a different shape could make the customer curious—or wary.
The J-pillow entices people to click through by showcasing that it is a legitimate upgrade to the typical travel pillow, not some silly invention that doesn't work. It does that by listing an important award won after the main product details.

Here's the formula:
Brand Name + Product Type + Main Benefits + Award Won
Even if your product doesn't yet have any awards, there's still something to be learned from the J-Pillow.
Notice the phrase "Head, Chin and Neck Support." That phrase doesn't only help it stand out from the benefits of other travel pillows (which typically just advertise neck support) but it also helps explain the strange shape of the pillow. Shoppers can quickly piece together that the odd shape might have something to do with the head and chin support, which is a new concept for this market.
So, take a tip from the J-pillow and include benefits that will help your product stand out AND maybe even explain anything unusual about it.
Be strategic in HOW you appeal to the customer
Writing titles will always be about appealing to the customer, but every product has a variety of benefits, and it's hard to pick the one worth featuring prominently. Hopefully these formulas can help you narrow down the right ideas for your exact product. Success with titles comes from making no assumptions and from A/B testing everything.

What tweaks to your Amazon product titles have resulted in better sales? Let us know in the comments below.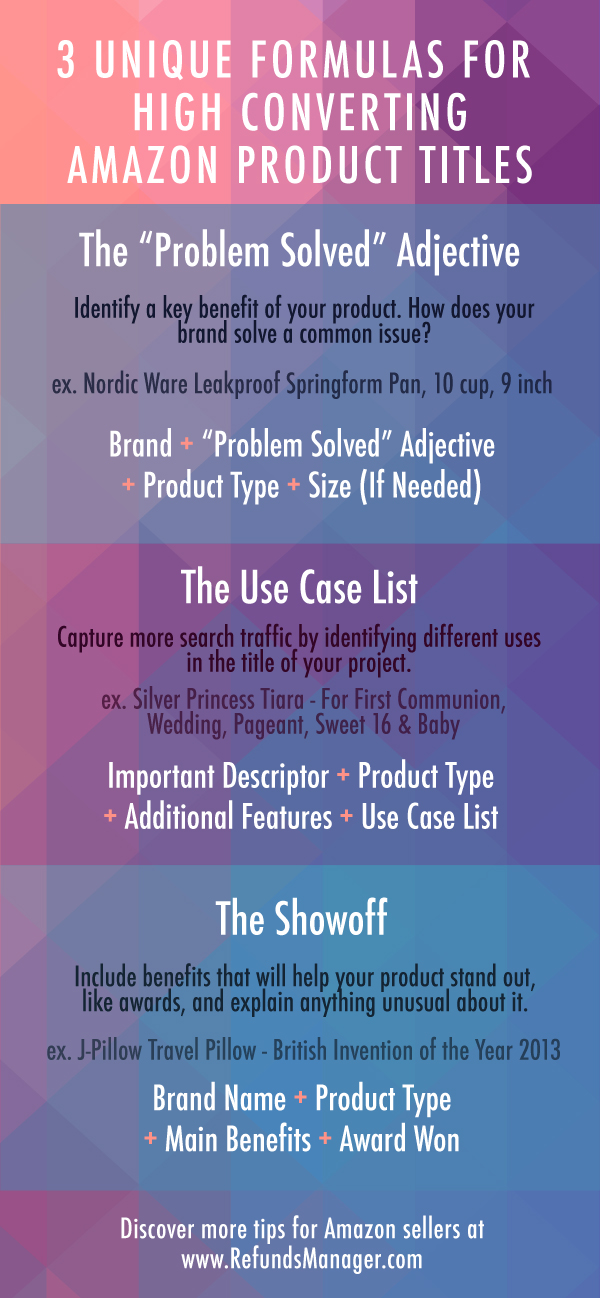 Sign up for new posts via email that will lead you to seller success: