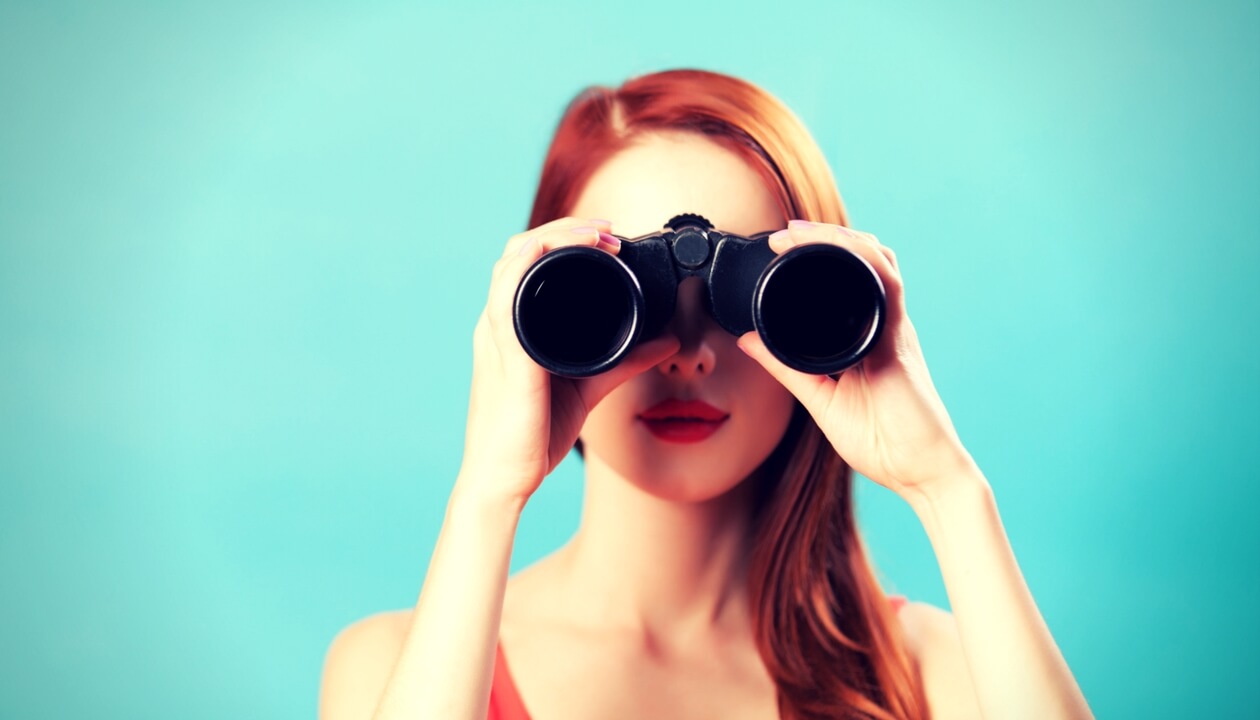 Long gone are the days where SEO meant a focus only on search engines like Google and Bing. Smart marketers now consider social media channels as search engines as well. Positioning for keyphrases in YouTube and Pinterest can be just as valuable as showing up in Google, depending on your target market.
So what about Amazon? How can Amazon Sellers get smart and treat the search box on every page of Amazon like the true search engine that it is?
The first step is to think of your efforts in service of the customer. Everything you're going to optimize is with the end goal of helping Amazon to match your product with customer search queries.
How Amazon is fundamentally different than Google
The reason that algorithms exist is to protect the product. If Amazon can't show people what they are looking for, then people won't choose to shop on Amazon. Google has a similar goal–to give users the information they seek. But there is fundamental difference: while Google mainly sells ads, Amazon sells products.
Both search engines want users to find exactly what they're looking for, so that users can trust the website and will continue using it. Imagine the frustration you would experience if Amazon and Google searches showed you something completely irrelevant to what you were looking for. It would be maddening.
Amazon's algorithm is designed to show customers the products that convert the best, so that Amazon can generate more sales.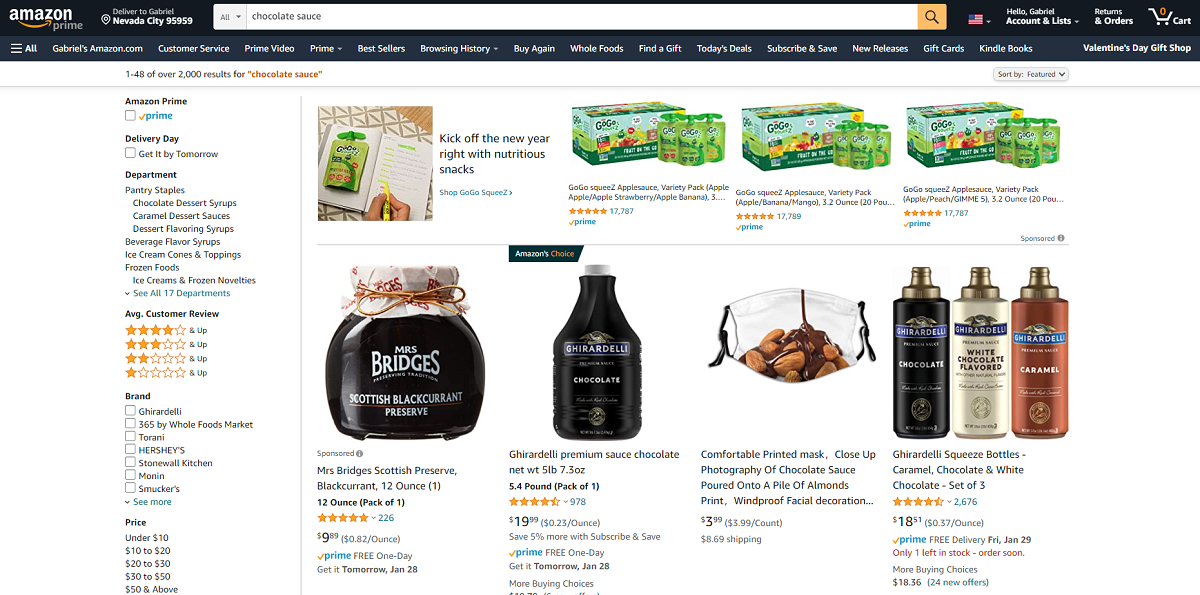 On the other hand, Google tries to show users search results that are trustworthy and linked to often, as these are measurements that a piece of content is of excellent quality. Google also features many different types of content:
Products
Recipes
Blog posts
Free online software tools
Definitions
And more.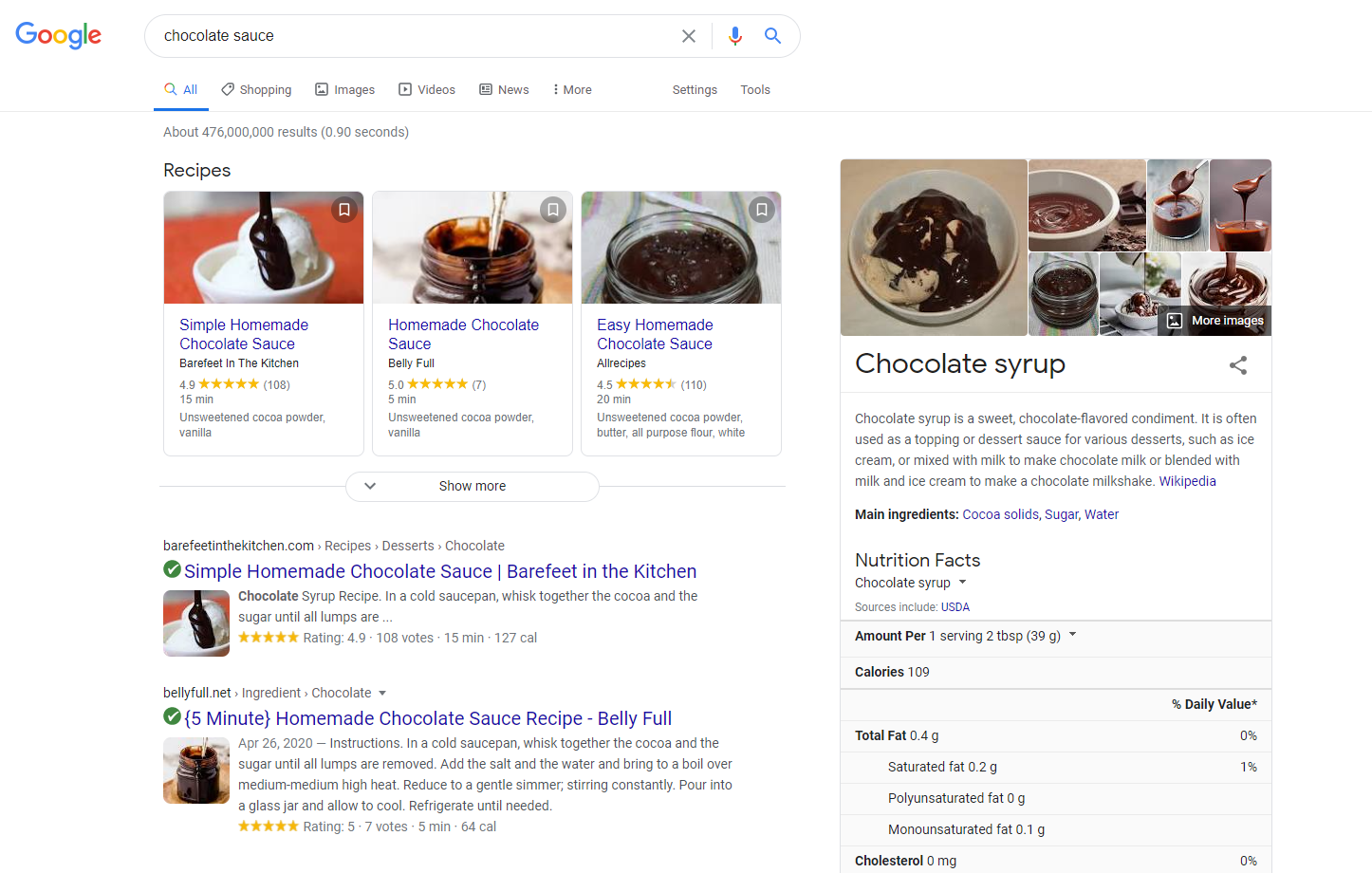 Both sites want to increase relevancy of what they rank for any given search term, but how they approach this is different.
To summarize the difference, with Google you try to build trust, but with Amazon you try to up your conversions, (which is already your goal). In both cases, you share a mutual goal with the search engine. For Google, you want to give searchers what they want to read or watch. For Amazon, you want to give shoppers what they're looking to buy.
It's so important to understand that your goals are aligned with Amazon, because this will you use realistic tactics. You're not trying to game the system. You're trying to show the right product for the right searches.
Why your Amazon landing pages and Shopify landing pages should differ
Depending on how many channels you sell in, you might want your ecommerce product page to show up in Google and for your product to rank well in Amazon's search list or gallery. If you focus too heavily on Google and not on Amazon, you might miss a key opportunity: the fact that Amazon results will show up in Google!
Working strategically on your Amazon positioning can get your Amazon product to show up in Google easier than your ecommerce site because Amazon is such a large, established domain that Google already trusts.
If you know anything about SEO, you know that duplicate content is typically a bad idea. You should never post the exact same piece of content in multiple places, so what about Amazon and Google? Can your website's product page have the same content as your Amazon product page?
While it might be okay for certain titles and sentences to be the same, you'll likely end up with a completely different strategy, and that's a good thing.
On a website product page, you should focus on targeting just a couple keyphrases with excellent traffic and low competition, but on Amazon, you can add a lot more structured data, so the pages will ultimately appear very different from the front and the back ends without you having to worry about that issue.
To sum up, you can have the same target keyphrases in your Amazon listings and corresponding Shopify listings, but the content should be slightly different. The pages might have different keyphrase targetings based on your keyphrase research.
Here's what an Olipop product looks like on their site.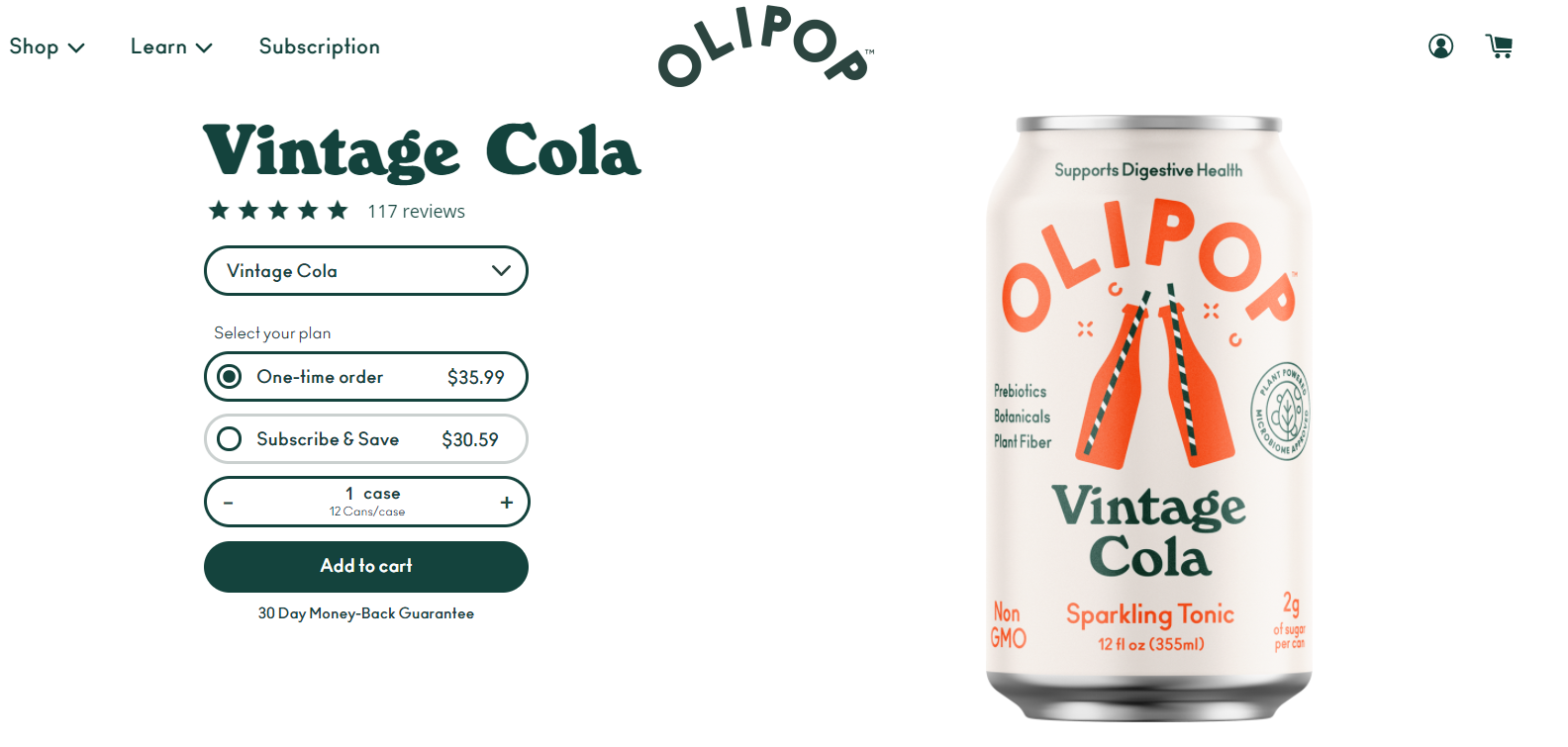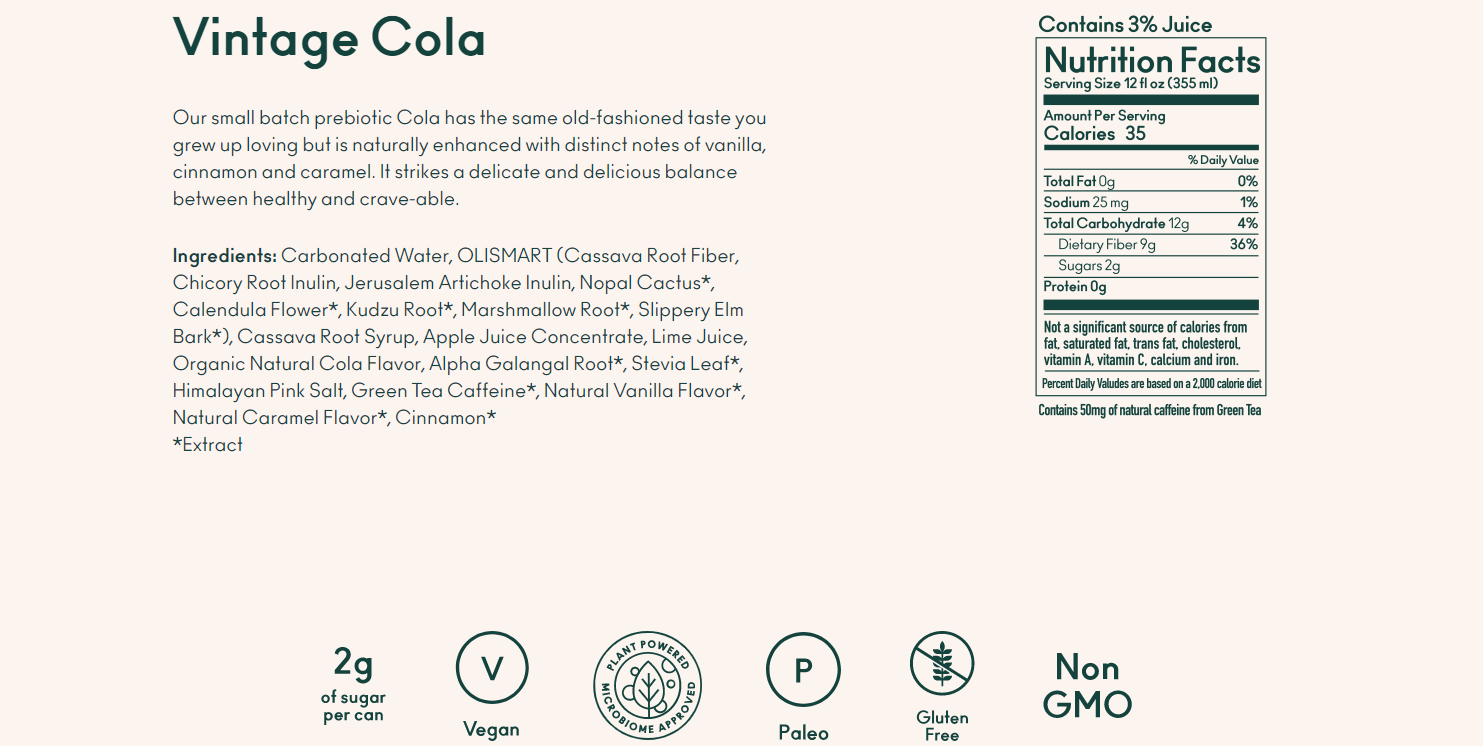 And here's what it looks like in Amazon.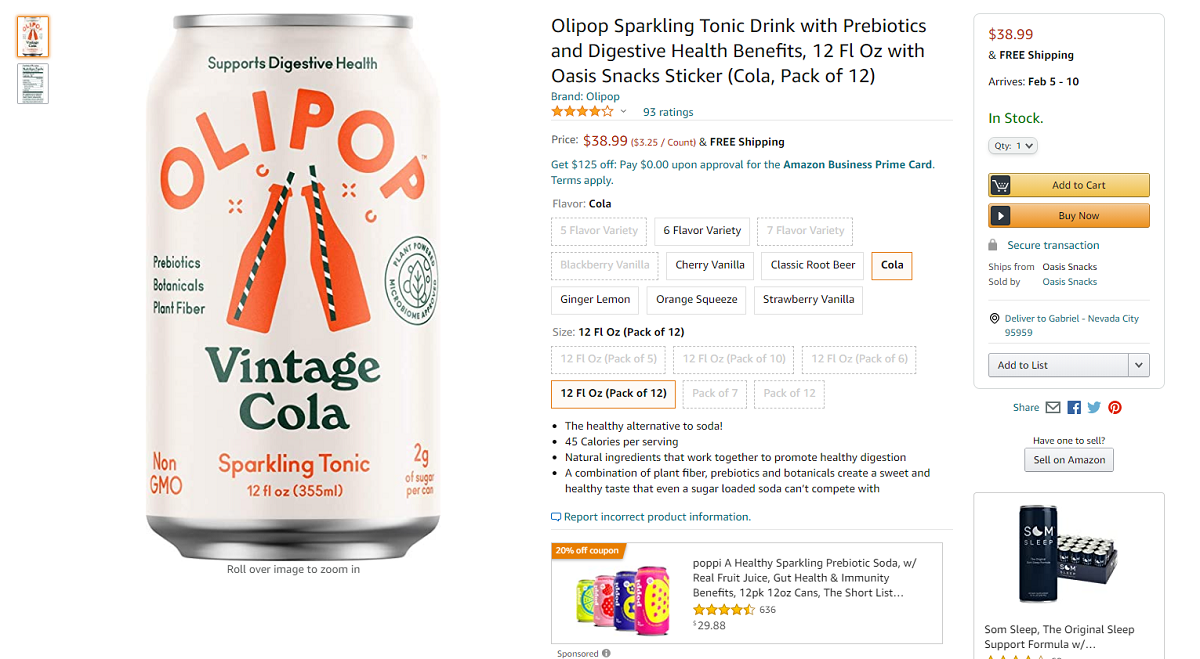 But most importantly, the content can't be exact duplicates of each other.
Google penalizes pages with duplicate content. Plus, the format of Amazon landing pages is different. Even if you do take advantage of its Enhanced Brand Content landing pages feature, your Amazon listing still needs to have bullet points in the description.
How to Amazon SEO your products
Now that we understand the how's and why's of Amazon SEO, let's dive into the exact steps you'll need to get your product ranking.
Research popular Amazon search terms
Is your product optimized for the right search terms? Before you go into the backend of Amazon and start optimizing for SEO, you need to pick the right keyphrases.
Amazon doesn't outright recommend to sellers to put a keyphrase or keyword in their title, but it's essential. The Google AdWords Keyword Planner is a helpful tool for identifying what search terms are the most popular with users. You can assume that what people search for in Google, they also search for in Amazon, and then test your assumption and keyphrase usage over time.
Need an example?
Let's say you offer an awesome canvas duffle bag, and your title is something like this Large Army Green Canvas and Leather Duffle Bag. Now, that definitely satisfies Amazon's requirements for a title, but it might not be catering to searchers. Here are some things that people might use your duffle bag for:
Travel
Carry On Luggage
Weekend Trips
So, take a look at which term is the most popular in Google Analytics and the least popular among competing products, then place that as the first word of your title: Carry On Army Green Canvas and Leather Duffle Bag.
But don't throw away those other search ideas! They become usage possibilities that you can place in the structured data form for search terms that Amazon provides.
You can also use a dedicated Amazon SEO tool.

MerchantWords is the most popular Amazon SEO keyphrase research software.
The top features it offers for Amazon SEO keyphrase research are:
Emerging trend data
Keyword search volume
Keyword seasonality analysis (great for understanding the complete picture for your seasonal products, and not working off assumptions)
Analysis of page one rankings
Performance metrics
Keyword history
Keyword multipliers and secondary terms to include
Amazon-optimize your product page, title, and search terms
First things first: a winning title. In your 200-character max product title, you probably already have key information like brand name, color, ingredient, and size, but do you have a keyphrase?
If you're smart about SEO on Amazon, you'll place keyphrases in the data forms but not place too many in your title. Keyphrase stuffing is never a good idea and can harm your conversions. It's best to choose just one or two keyphrases or words for the title and to place the rest on the backend.
Here are all the places you'll want to place relevant keywords:
Bullets
Description
Search terms
Title (1-2 max)
Remember that SEO for Amazon is different than for Google. Do not use variations of spellings, but focus instead on usage, so if you sell a party supplies, don't worry about writing "birth day" and "birthday." Instead focus on covering birthday, quincenera, wedding, etc.
Encourage reviews
Getting an excellent seller rank and informative reviews is top priority for Amazon sellers. Don't take wait for glowing reviews to come to you. Instead, you'll need to encourage your buyers to leave honest feedback.
There are a few ways to do this. You can generate an email that the buyer will receive and request a review and you can place a review button or CTA in the sidebar or product pages of your website.
But don't be afraid to ask customers directly. If you have a customer who loves your product and posts about it on social media, you can send them a direct message asking if they've reviewed you. Remember–you can't offer anything in return, and it isn't wise to try and game the rules.
You can also ask for reviews in the text of an Instagram or Facebook post. Say something like that, "We appreciate our customers' feedback so much. If you haven't done so, would you please leave us a review on Amazon?" Of course, you won't want to jam your followers' feeds with this request, so do it a few times a year at most and phrase it uniquely with a new "likeable" photo each time.
Generate off-Amazon traffic
The main factors that count for Amazon search placement are:
Product optimization
Seller rank
Page view and CTR
We've covered the first two, so now let's dive deeper into the third. Of course, having an excellent product with excellent reviews is going to help your CTR rate and conversions, but you'll also want to focus on driving some traffic to Amazon.
If you bring traffic directly to your Amazon page that is already intent on selling, then your page view to purchase rate is going to bump up, which will help increase your chances of getting traffic from Amazon search.
This is where a commitment to marketing can pay off. The only way to see results is to pick 2-3 objectives at a time and focus on them. Examples include building your Instagram or Pinterest presence or being active in a relevant forum, Facebook group, or on Quora. Building an engaged, branded presence strategically and over time can allow you to drive traffic to Amazon and increase your sales. Since those customers know you on other channels, they'll be more likely to leave personalized reviews than a buyer who has never interacted with you online before.
Offer a great product
This is a tough pill to swallow: the best-ranking products on Amazon are often the best products, period.
Great products…
Get word-of-mouth referral traffic
Easily acquire lots of 4-star and 5-star reviews
Have high click through rates
Have high conversion rates
So, if something that you've optimized simply isn't ranking, that might be because it's not the best product on Amazon, in terms of its quality relative to its price. Launching products on Amazon isn't a one and done thing. The top sellers continue to launch new products in the same brand, and to create new brands. You never know which product is going to sell like hotcakes. that's why you have to keep innovating, launch new products, market the top ones, and liquidate the bad ones.
Just remember: Amazon SEO doesn't exist in a vacuum. An amazing product that people love will shoot to the top of the search results, because Amazon wants to earn more commissions from those FBA sales.