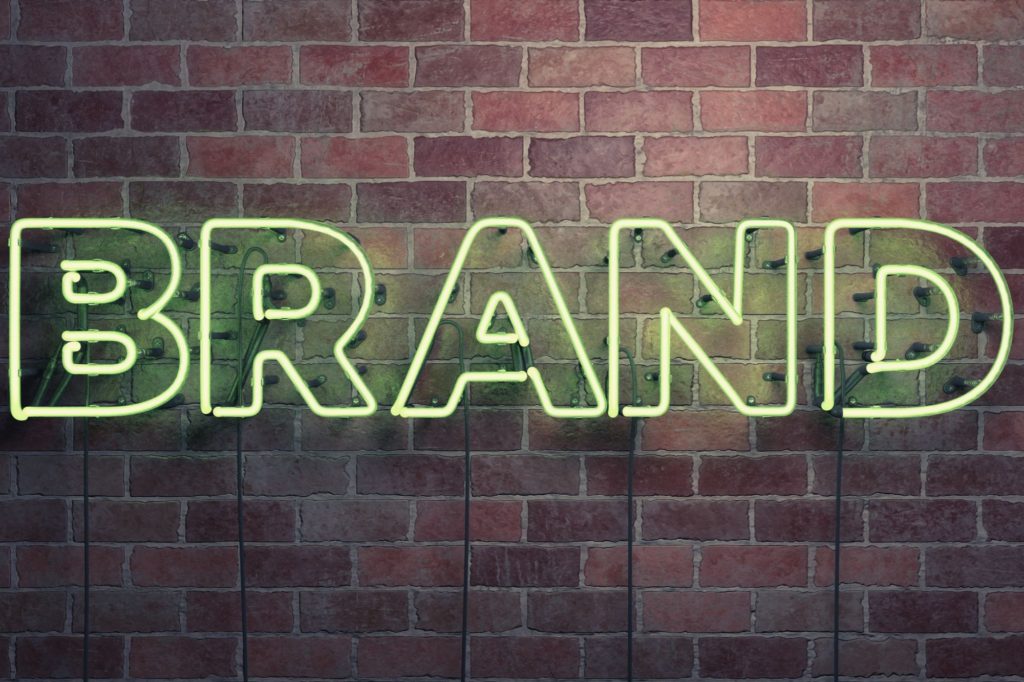 You've probably bought an Amazon basics bath towel or a box of Mama Bear diapers, but did you know that Amazon has at least 76 of its own private label brands?
Many online and brick and mortar retailers create their own brands to sell on their platform. Even though it may frustrate some Amazon sellers, Amazon has said that they don't use their data in order to launch new product lines, but only to learn how to better support Amazon sellers. 
Instead of griping about it, why don't we see what we can learn from these brands, especially for our own listings. 
Here are some of the top Amazon private label brands. 
1. Amazon Basics
Amazon Basics is just like it sounds. This is the private label brand through which Amazon sells hundreds of basic household items, the sort of things that consumers would pick up from their local Target or K-mart. We're talking extension cords, adapters, hangers, baby proofing gear, camping chairs, and office accessories. 
What you can learn:
Every private label brand needs a mission statement. This makes it clear to consumers what value you offer, and it also helps you stay focused with your brand, and not offer products that aren't in alignment. Amazon Basics has a very clear mission statement. Does your brand?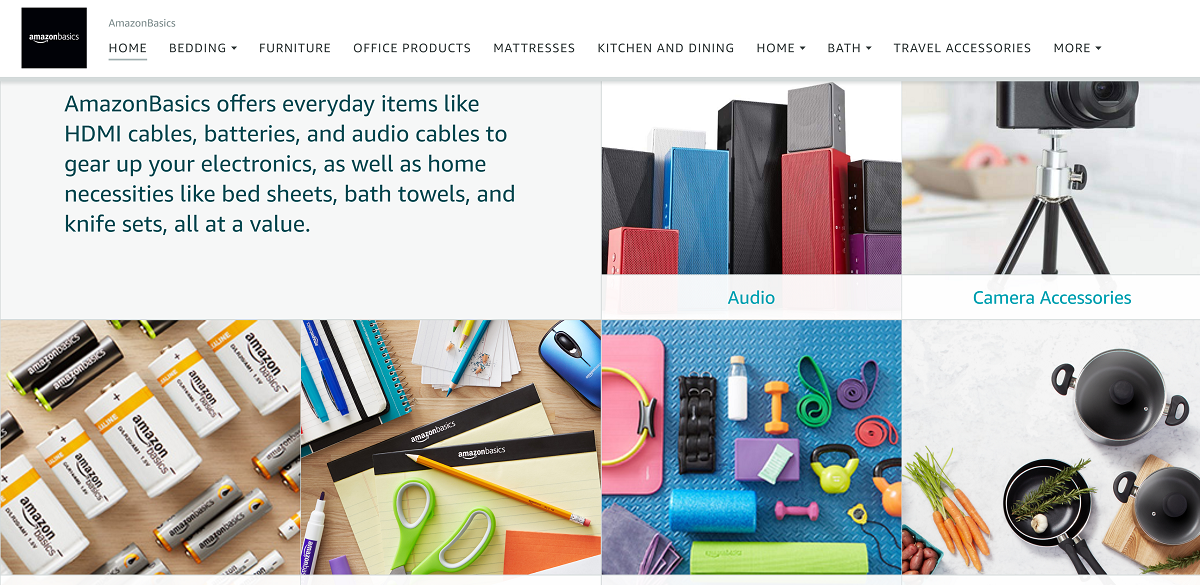 2. Amazon Essentials
Amazon Essentials is a clothing only brand that offers everyday clothing for men, women, and children. We're talking things like t-shirts, sweatshirts, socks, and underwear. 
What you can learn:
Too often, sellers harm their chances of ranking by stuffing their titles with too many keyphrases and adjectives. This hurts the credibility of your listing, which affects click through rate, which in turn affects your organic search ranking. Take a page out of Amazon Essentials' book with simple listings that prioritize a few important keyphrases in the title and the description.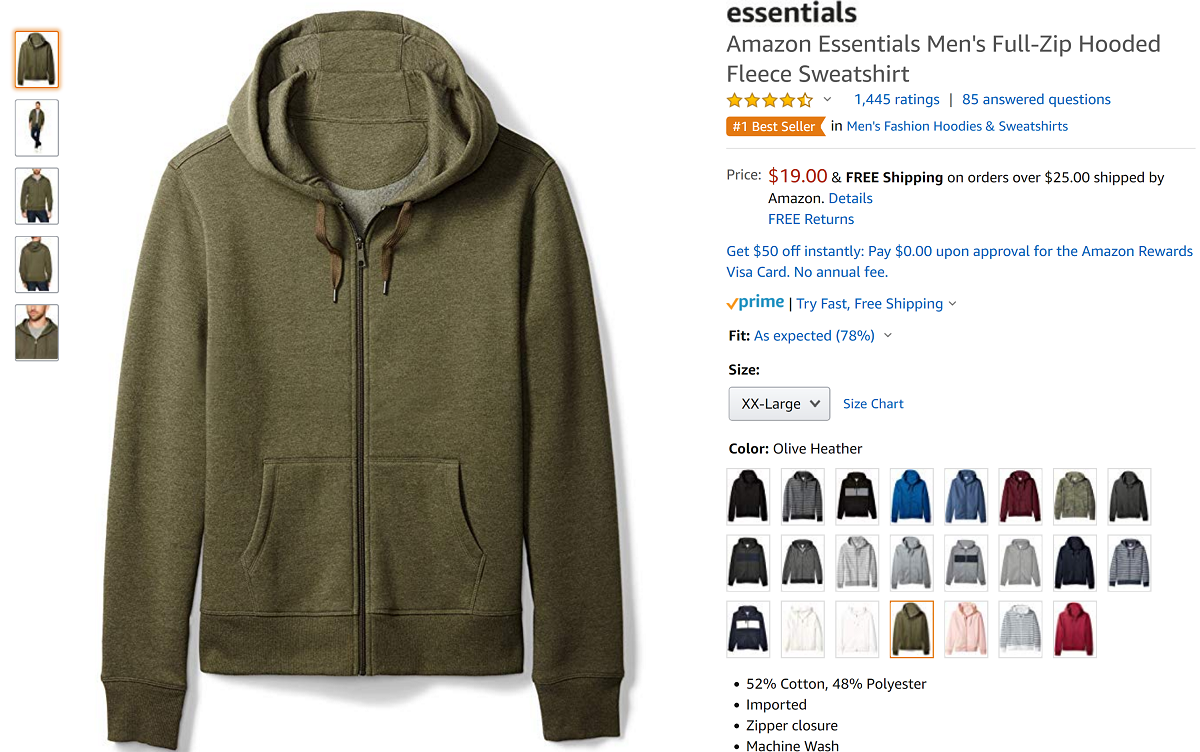 3. Amazon Elements
The Amazon Elements primarily offers vitamins and dietary supplements. Time will tell if Amazon will expand the product line. 
What you can learn:
Did you know that you can reduce your rate of customer turns? This means you'll have less errors to ask Amazon for reimbursement. One of the best ways to reduce customer returns is by giving shoppers all the information they need upfront. No surprises! To do this, include images that contextualize the size, color, or other detail of your product. For example, many shoppers will not want to swallow a pill that is as long as a quarter. This image reduces the number of returns and negative comments due to pill size.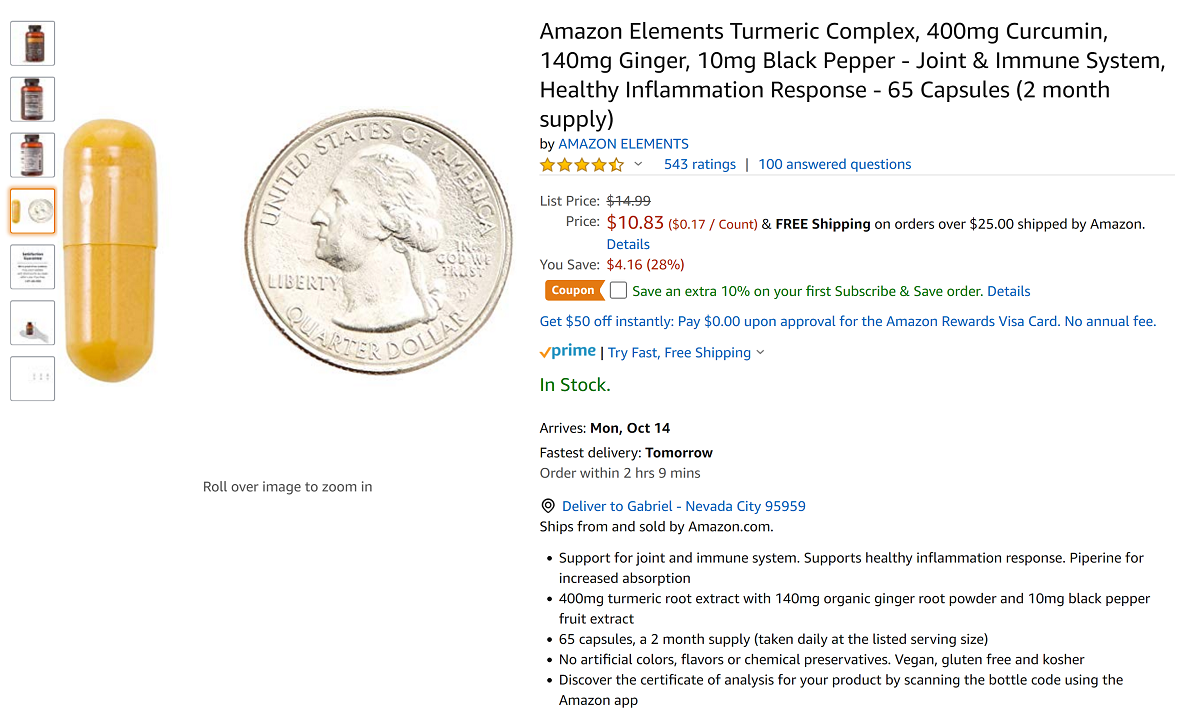 4. Presto!
The Presto! Brand offers all sorts of household goods and cleaning supplies. The primary products are paper towels, toilet paper, hand soap, and laundry soap.
What you can learn:
While long, bold bullet points can be smart for optimizing the listings of more expensive products, this is unnecessary for the cheap items that you sell. Why? You don't need to oversell every item and provide too much information. Often times, the bare minimum will do. In this example, we see very clear, simple details in the product description, including the scent, a quality guarantee, and details that apply to eco-conscious buyers.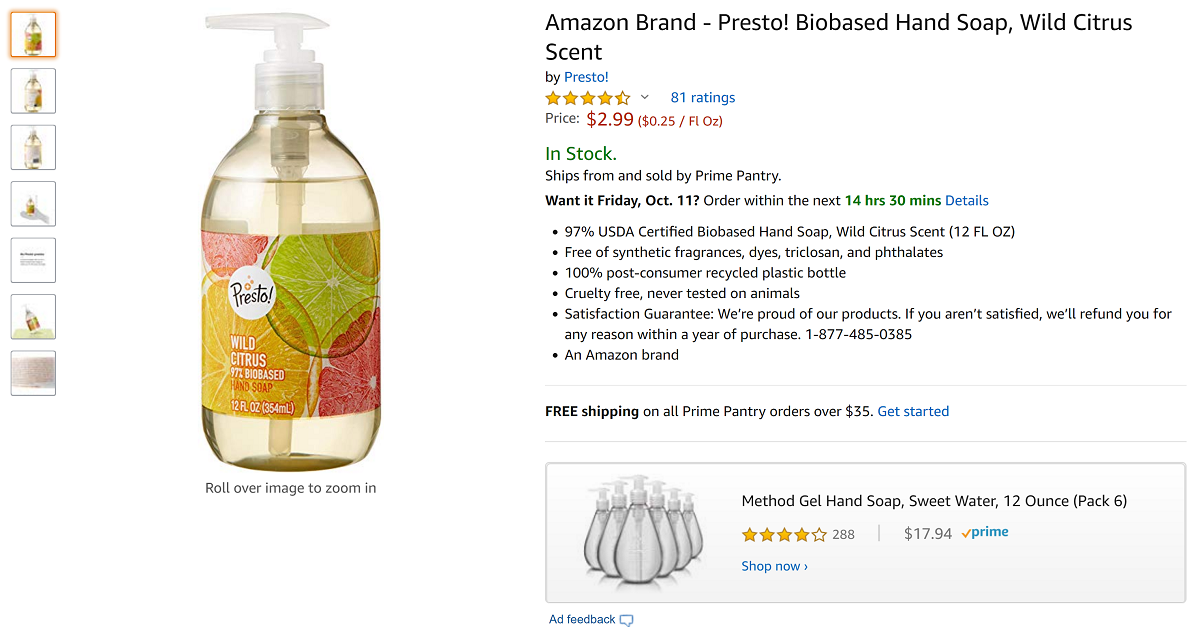 5. Solimo
The Solimo brand also offers household goods, but the focus is less on cleaning and more on personal hygiene. There are razors, facial cleansers, and lotions. 
What you can learn:
Make the count clear! If you offer a multipack, make it very clear to shoppers. This should be the featured image. Showcasing that the shopper will get more bang for the buck with a multipack will increase your click through rates from both organic results and PPC ads.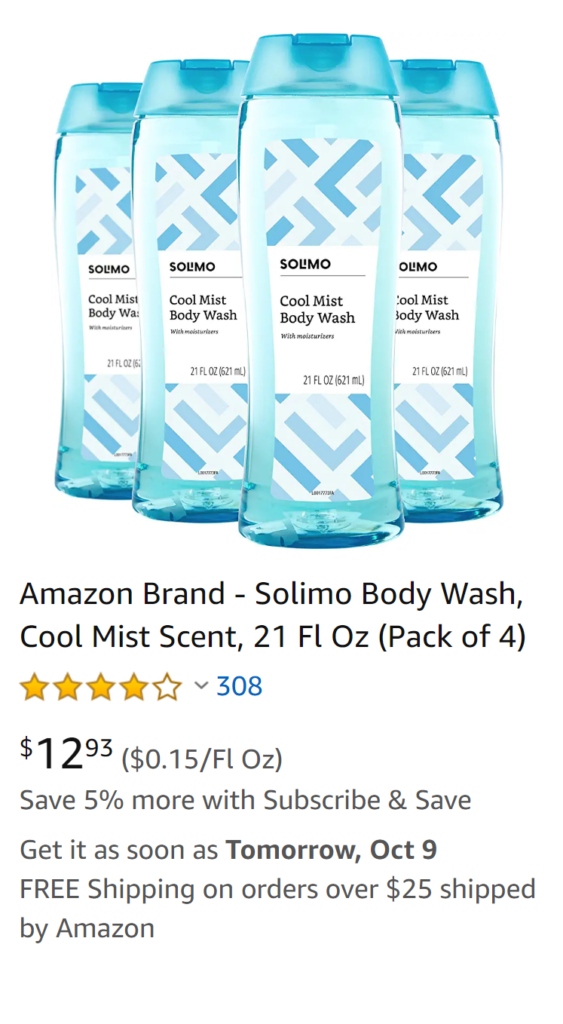 6. Pinzon
Pinzon is Amazon's private label brand for homegoods such as towels, sheets, blankets, bathrobes, and other linens. 
What we can learn:
Select contextualized images for the featured image for your luxury products. While $59 isn't a very high amount to spend on sheets, it's certainly more than the $20 or $30 many Amazon shoppers would expect to spend. In order to make these sheets stand out from cheaper options, the product's main image evokes an emotional feeling of luxury and comfort far better than just a plain white background would.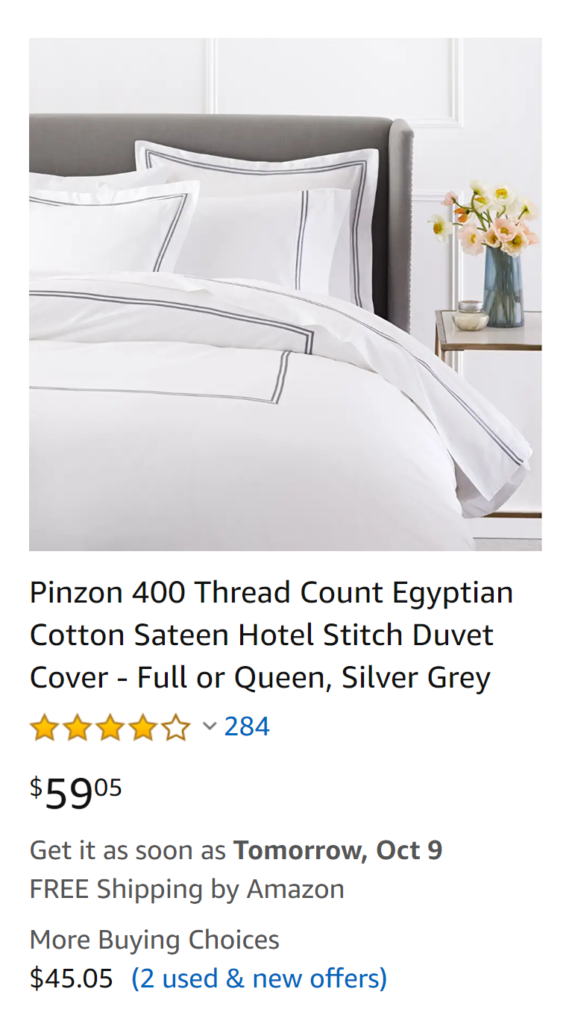 7. Paris Sunday
As one of Amazon's many fashion brands, Paris Sunday sells women's tops, casual dresses, and cocktail dresses. 
What we can learn:
With the exception of basic t-shirts and sweatshirts, Amazon always chooses images where the clothing is shown on a model (instead of a white background) for the main featured image. If you're looking for something basic, you will expect the same basic cuts, and you will want to see the shape of the clothing against a white background to vet that it has the design you would expect. But for any fashion items, it's essential to catch shoppers' eyes by showcasing the design on a model. As another tip, instead of just encouraging customers to leave reviews, you can ask them to give feedback on whether the item runs large or small. It doesn't matter either way, but other shoppers will be more likely to purchase if they know ahead of time whether other people thought it ran large or small, so they're more confident in selecting their size.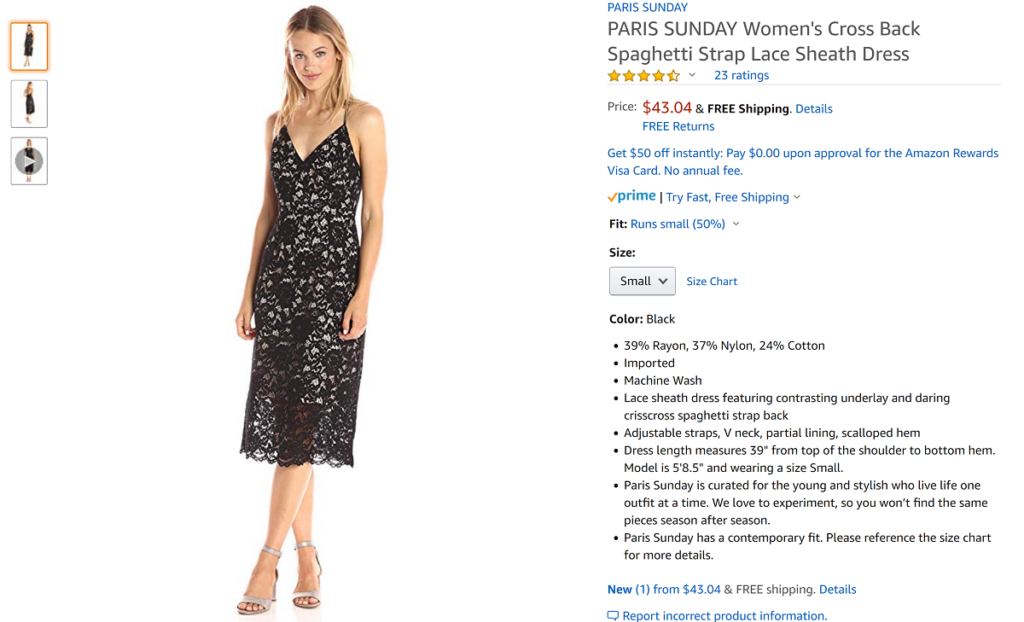 Key takeaways
The number of active private label brands that Amazon owns is expected to grow, and each brand will likely sell more products over time. While sellers may be frustrated that this represents direct competition, other sellers will not feel the pinch because Amazon is competing directly with grocery stores and big box retailers more than it's competing with boutique brands. 
If you're creating special, one-of-a-kind products with unique value propositions and higher prices, you aren't likely to be competing directly with an Amazon brand. However, when you're creating your listings, expanding your brand's products, and working on marketing campaigns, you can take a peek at Amazon brands to learn about branding from the experts.