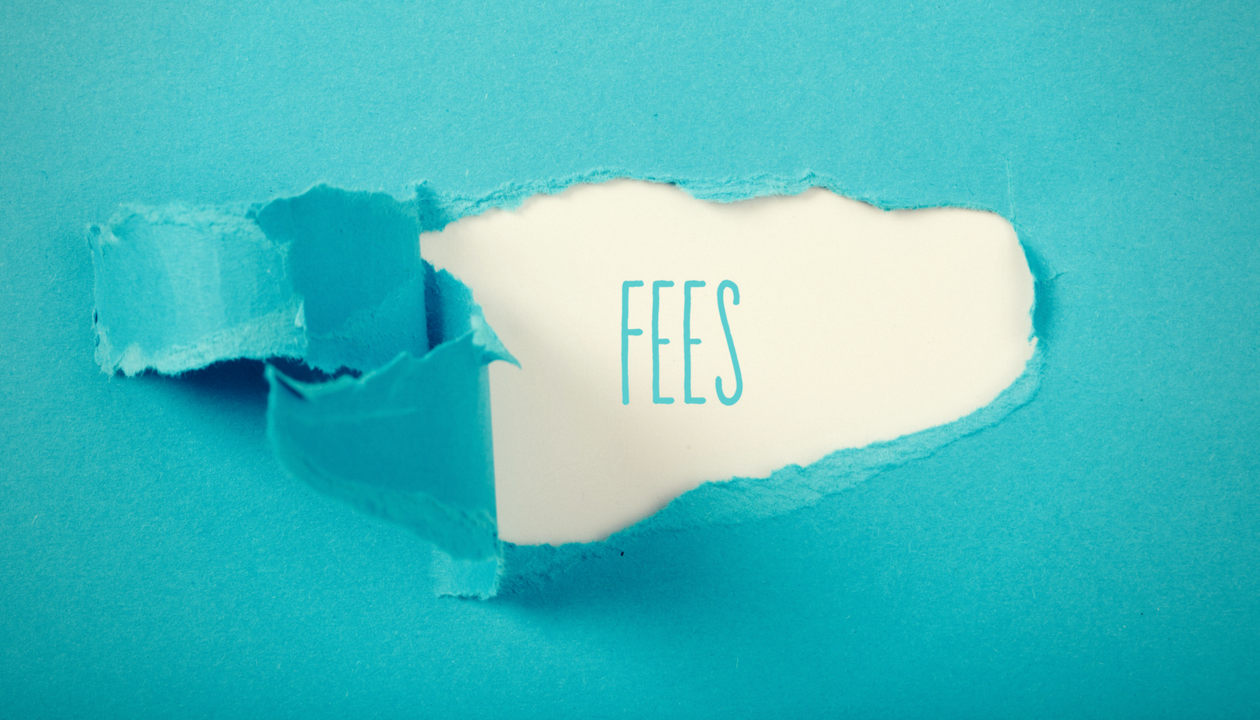 Ever wanted a more in-depth break down of the FBA fees? In this article, we're covering the ins and outs of FBA fees and giving you tips on how can pay less of them!
Read on for all of the details.
The value in the FBA fee structure
Before you complain too much about the FBA fees, remember that they are designed to foster entrepreneurship. Across America, there are thousands of people like yourself making a fantastic living on their Amazon sales.

If the FBA fees weren't built on a flexible rate structure, it would not be so simple for your orders to be fulfilled on demand.
Amazon FBA fees for 2021
Amazon changes their FBA fees regularly. For 2021, the Amazon FBA fees include updates to apparel and non-apparel products, as well as the monthly storage fees. Keep reading for a detailed breakdown of all Amazon FBA fees for 2021.
What are FBA fulfillment fees?
The FBA fulfillment fees are charged only when you make a sale.
These fees cover the following services:
Pick and packing the orders
Shipping and handling
Customer service
Product returns
Rather than charge for all of these services individually, Amazon FBA combines them into one fee applied to each and every order dependant on size. There are two categories, Standard-Size and Oversize.
For example, an item that is under 12 ounces and smaller than 15" by 12" by .75" is charged $2.41. You can find a table of the fees by size here.
In 2021, the Amazon FBA fees are different for apparel versus non-apparel. The apparel fulfillment fees are actually a bit higher. This is probably because clothing is one of the more profitable product categories and Amazon knows they can charge more these items without deterring third party sellers from selling on the platform.
Here are the 2021 Amazon FBA fees for non-apparel products: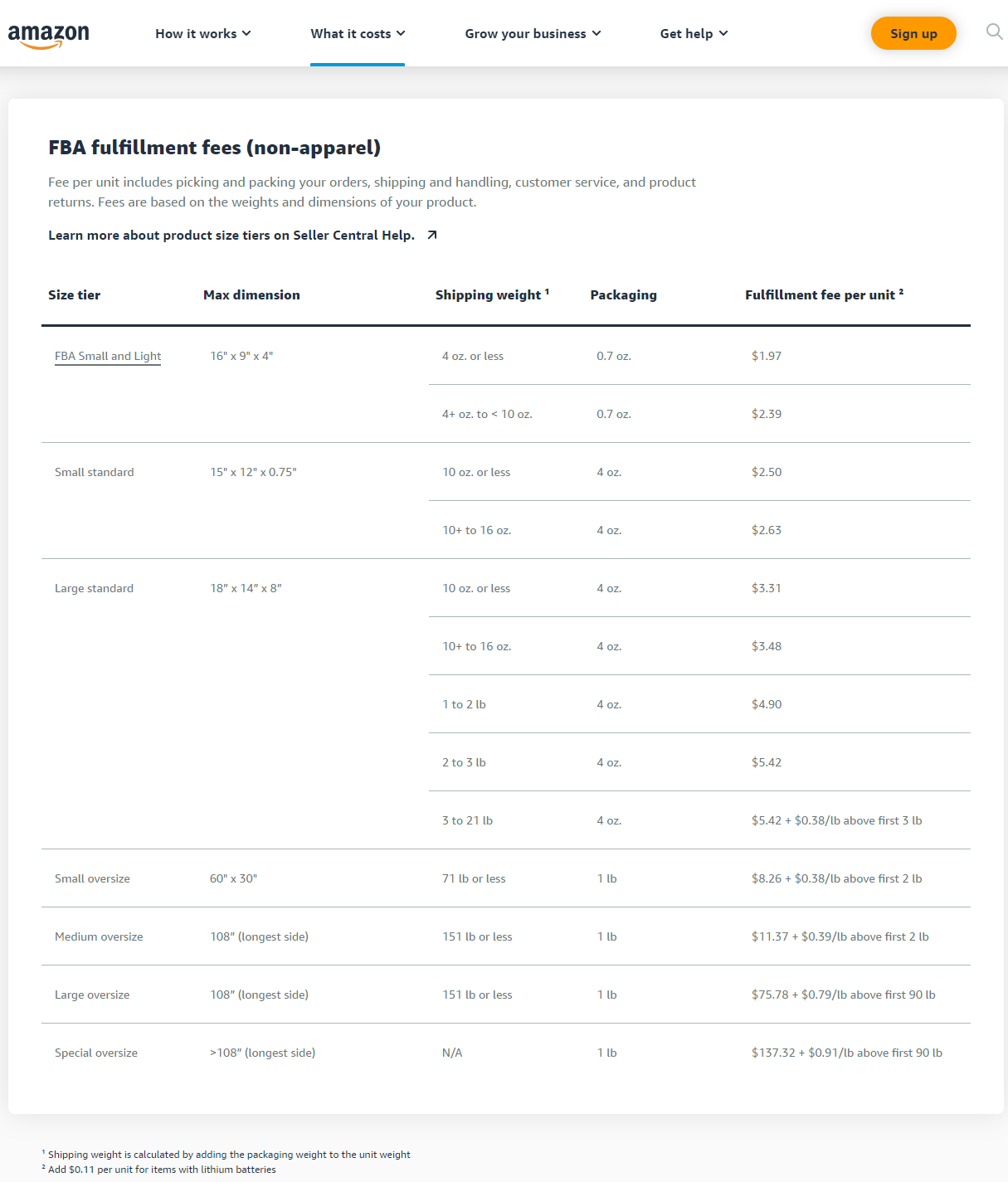 When calculating your potential profits for a new product, be sure to check the dimensions of a competitor's product so you can get an accurate estimate of the fees.
For large product with high fees, you'll want to be sure that your profit margins are large enough to cover them. Ideally, you can source small and medium-sized products with high profit margins, so you don't have to worry about Amazon FBA fees eating into your profits due to a large dimension or heavy weight. For example, dumbbells aren't a great product because they're heavy, yet consumers expect to get them for cheap (there aren't special features that would set your brand apart and offer reasoning for a high price). On the other hand, jewelry is light, but the design and style can command high prices and thus high profits.
Here are the FBA fees for apparel products: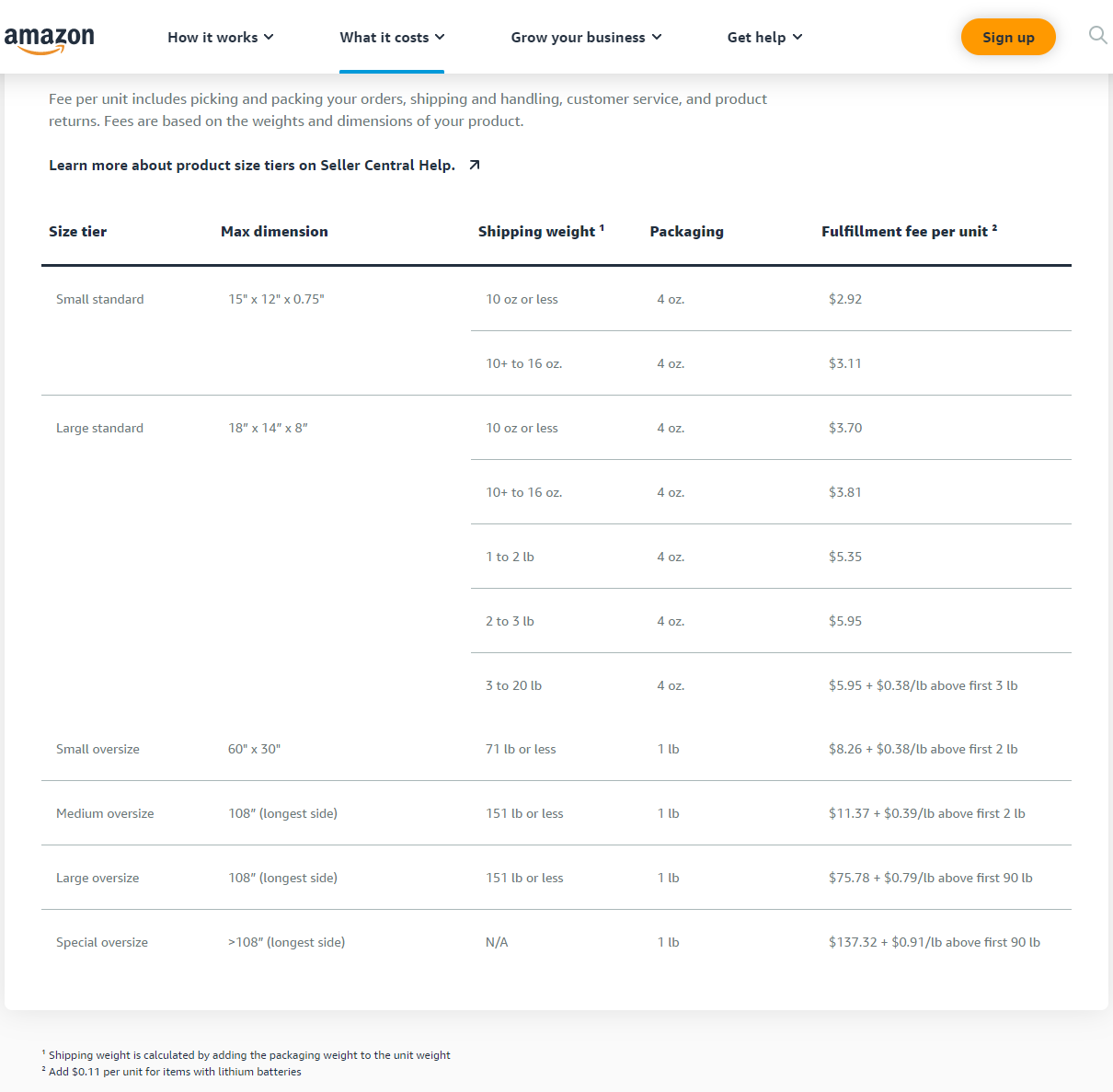 Oversize items are charged a little differently. Rather than a flat fee, there is a starter fee and then an additional price per pound is added to cover discrepancies between items of the same size but varying weights.
What are the FBA monthly storage fees?
In addition to the fulfillment fees there are also monthly storage fees. Without these, sellers would not be as incentivized or motivated to turn over items quickly. Imagine how full Amazon's warehouses would be if there were no storage fees and you only were charged for sales!
It's no wonder that during the busy holiday season these monthly storage fees are even higher to encourage sellers to make sales and to keep the warehouses open for the influx of inventory.
As with fulfillment fees, monthly storage fees have two categories, Standard-Size and Oversize.
Within these categories, the fees change based on the month range, whether January-September or October-December.
These fees are not charged per item, but rather by cubic foot.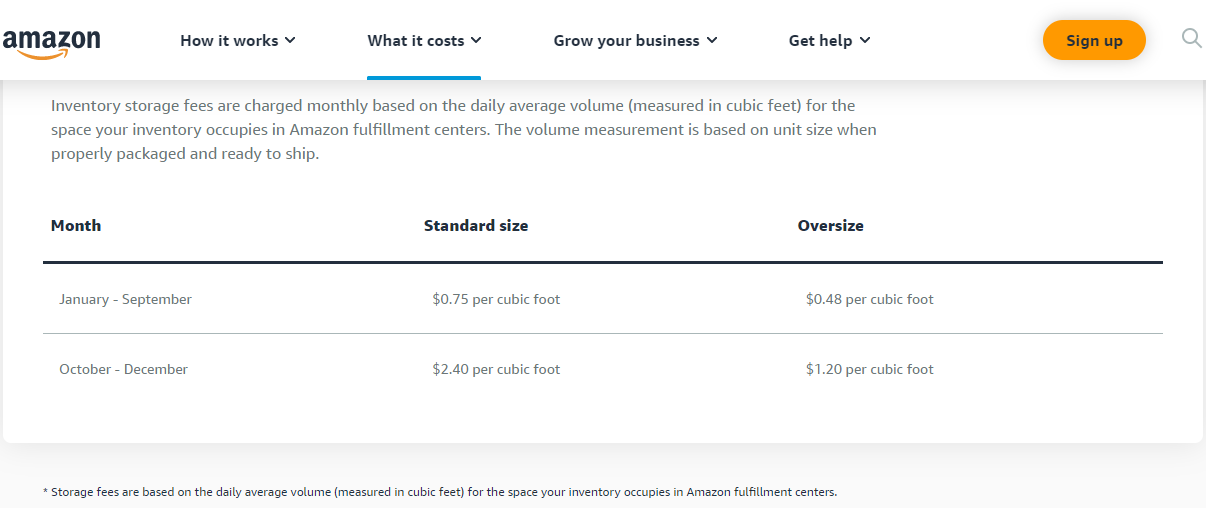 How to use the FBA fees when assessing new products
When sourcing new products, it's important to not just think about the numbers. The days when you could succeed on Amazon by selling one-off, random small products are over. In today's market, you need to create a branded line of products that serve a specific audience, so you can create fans and repeat buyers. Without that strategy in place, it's nearly impossible to scale to 7 figures.
That said, conducting FBA fee calculations is still an important part of the process.
Using this rough formula, you should look for at least a 50% margin so you can still cover your own costs of doing business and marketing.
Cost of sale – (cost of product + fees)
This can be a helpful way to quickly guestimate results when vetting new potential products, but when you're ready to consider sourcing that product and pulling the trigger, you should use an advanced fee calculator like the one that Amazon provides.
How to pay only the fees that you owe
As you can see, Amazon FBA fees are complex. Naturally, with so much inventory in the Amazon warehouses, problems can arise.
The most common occurrences of sellers accidentally overpaying Amazon for the FBA service are with customer returns. Specifically, when a customer returns something but the seller doesn't get credited the item or the cash amount, or when a customer doesn't return something and the seller is out the item and the fee.
That said, there are issues that can arise with just the fees themselves.
Misappropriated size fees can have a huge impact on your profits. Imagine if your small product was charged the large Standard-Size fees for a few months straight!? It could drastically eat into your profits. Unfortunately, this happens regularly, simply due to the massive volume of the Amazon marketplace. 99% of the time they get it right, but that 1% can really cost you.
Getting refunded for overcharged Amazon FBA fees
Every Amazon seller who has sold over six figures has most likely been wrongfully charged for Amazon FBA fees, whether they realized it or not. This is because Amazon has such a high volume of products and transactions that mistakes are bound to happen occasionally.
To review your account and find errors, some of the reports you'll need to reconcile include Manage Orders, Inventory Adjustments, Inventory Event Detail, Removal Order Detail, Received Inventory, and Daily Inventory reports.
"Even if I wanted to handle reimbursements myself, I wouldn't know all of the places to look. Refunds Manager found me over $2500 in less than a year…This was money I wouldn't have been able to find on my own." – Yvonne Van Gaasbeck

"Once I started looking in to what would be involved in finding other money Amazon owes me, I saw it would take up too much of my time that I would rather use finding new inventory sources, which would in turn cut into the time I could be spending traveling or just relaxing and enjoying life. That's why I'm happy to have Refunds Manager to do it for me." – Alan Cook
To protect your account from overpaying FBA fees, we offer a custom service. We crawl your account with our proprietary software to search for issues and after a manual review, we submit any necessary claims for reimbursement.
Stay strategic on Amazon! Get new blog posts sent to you via email: