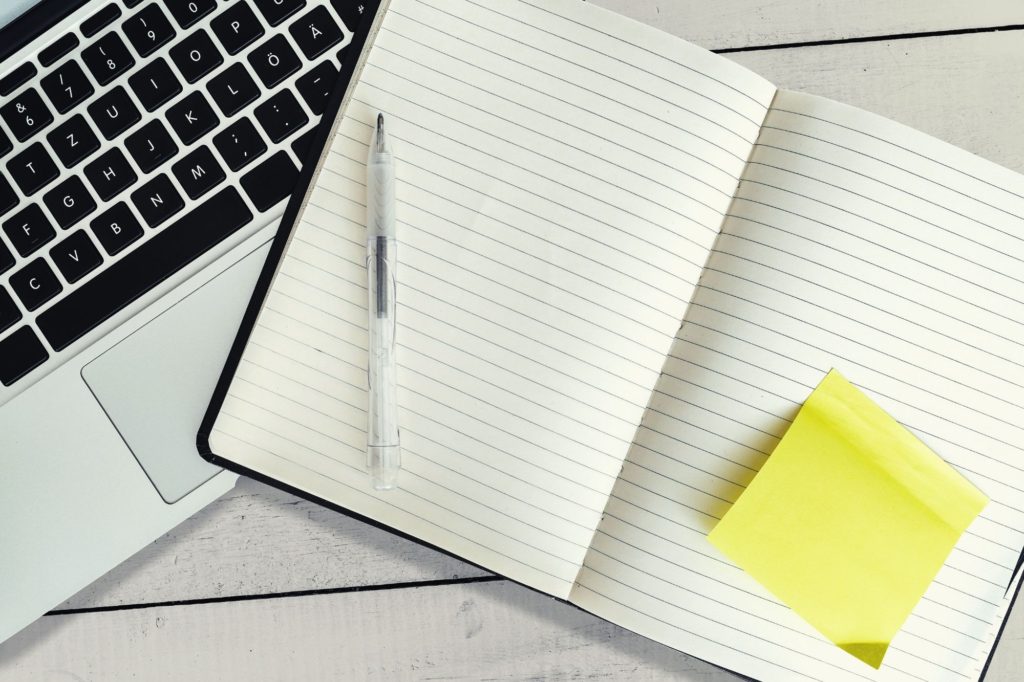 Today, we're covering our top Amazon copywriting tips for FBA entrepreneurs who know that when it comes to product listings, there is always room for improvement.
Your Amazon product pages are the lifeblood of your FBA business. They need to pull in as much organic traffic as possible and convert as much of the traffic as possible. We've talked at length about your product imagery can help achieve both higher click throughs from search results pages as well as higher conversion rates.
But what about the copy?
Your copy has a HUGE impact on your click throughs and conversions. We know that you're busy, so we've designed this post to be easy to skim so can quickly check your familiarity with these concepts. After you've read this list, go through all of your product listings and see if they are implementing these best practices.
1. Differentiate your product from its competitors
To really make your product stand out, it needs to immediately be clear to shoppers why and how it is different from its competitors. Imagery is absolutely one of the best ways to do this, but you can achieve this in your copy as well.

Adjectives that show how your product is different, placed in the headline, such as "reliable" or "safe" or "natural"
A top benefit in your bullet point description that your competitor doesn't have, such as "Camping & Home Use"
Short words and phrases in your product images that point out how your product is different, such as "Light dimmer with 5 settings"
2. Purposefully evoke an emotional response
Emotion sells. Emotional targeting is one of the best things you can learn as an entrepreneur. How does your product make satisfied customers feel? Hopeful, comfortable, calm, safe? How do they feel when they buy a competitor product and it doesn't work? Disappointed, even angry?
Learn from your customer reviews and your family and friends' experience with the product. Choose one target emotion and invoke it in your copy by creatively choosing your words carefully through the lens of that particular emotion.
3. Make your bullet points skimmable and focus on the top benefits
On Amazon, you see this technique often: caps lock benefit titles with further descriptions in regular capitalization. This technique is used for good reason:
It maximizes space
It provides a lot of information
It's skimmable and easy to read
It highlights the top benefits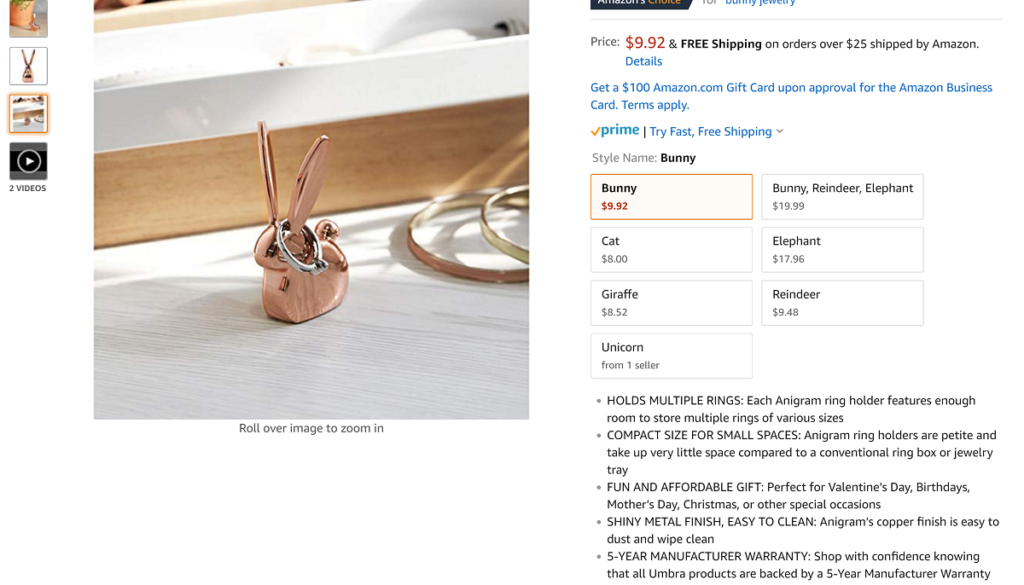 Determining your product's top benefits requires competitor research, market research and a thorough understanding of why customers love your product. Once you've chosen them, make them clear, compelling and skimmable.
4. Use a keyword research tool designed for Amazon
A tool like Merchant Words can have a big impact on your listing optimization and Amazon copywriting. The problem with using free tools like Google's Keyword Planner, UberSuggest and many others is that these tools were designed for…you guessed it, Google.
While your Amazon product listings can and will show up in organic Google searches, the real aim here is to get your listing ranking organically within the Amazon search results page. Merchant Words provides long tail keyphrases based on what shoppers are searching for in Amazon.
5. Put target keyphrases where they belong
You'll discover your top keyphrase to target using a tool like Merchant Words (discussed above) and with PPC testing (described in detail here). Once you know it, make sure to place it in your headline.
For your secondary keyphrases, and variations of your main keyphrase, you should scatter the top 2 – 5 in your bullet point description section. And of course, add any keyphrase that you put in your product listing into the meta content.
6. Include multiple use cases in your headline
Putting multiple use cases in your product headline is super smart. For example, this product appeared organically in position #4 for the search term "father's day gift for golfer."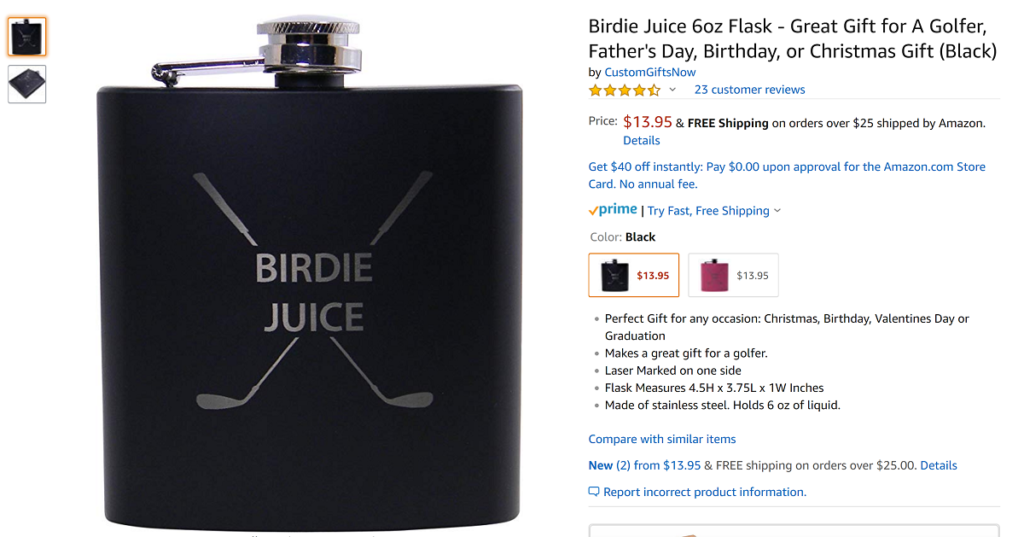 When hitting right click and then selecting Inspect, you can see that they have included this as a target keyphrase in the backend, even though it is not in the headline. Instead of covering just one holiday, the headline covers multiple use cases.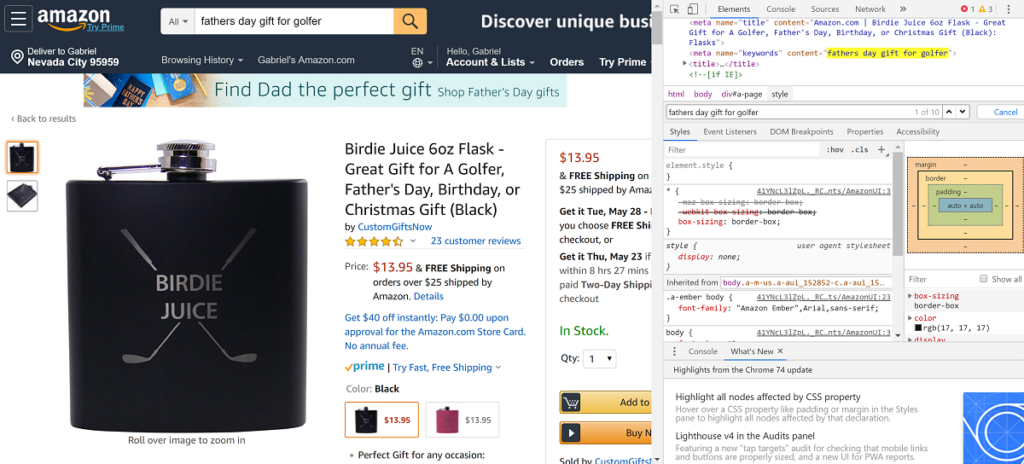 7. Use copy on images only when needed
I'm sure you've seen it before…product images with cheesy, garish words on them. While putting copy on your product images can be an effective way to communicate with shoppers, it wouldn't be wise to do so at the expense of your branding.
Here's a perfect example of how to use copy on your images in a way that clearly showcases a product benefit and differentiation. The words "warm white" and "daylight white" are added (along with short descriptions underneath each phrase) to showcase how the product looks when used alongside different light bulbs. For design conscious shoppers looking for home decor, this contextualization is incredibly useful.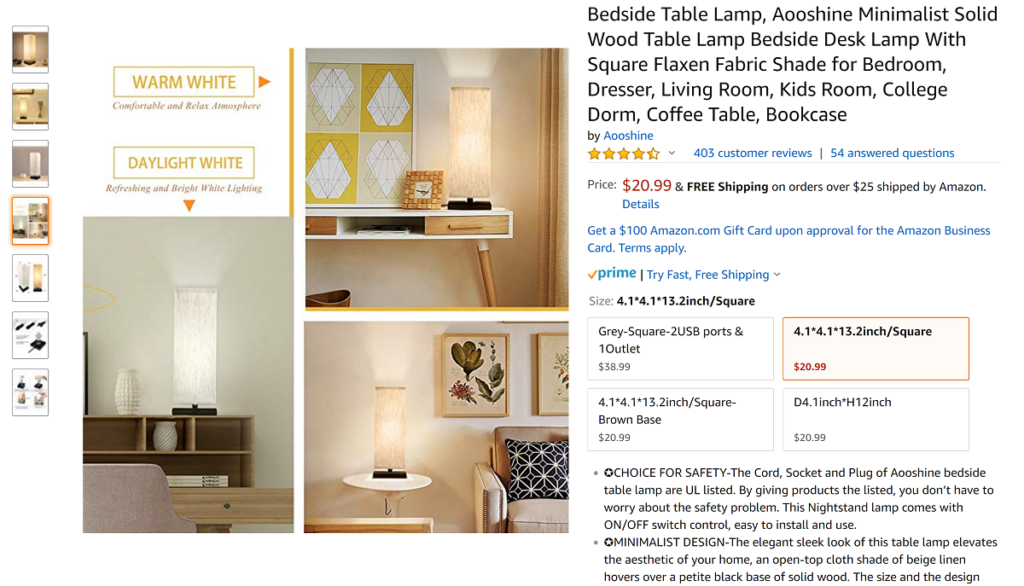 8. Address customer questions with your copy (and your images)
The above example is not only a great example of using copy on images, it's also a great example of how to address customer questions. When shopping for a fabric lamp shade, someone might wonder how it would really look in their home, and the thickness of the fabric
Depending on the product, there could be half a dozen unique questions. Here's how to find out what shoppers want to know:
Read the Q&A section for your product and competitors' products
Review questions submitted to you after or during an order
Ask your employees, friends or family if they have any questions after looking at your product page
Take the most important, frequently asked questions and find a way to address them in your bullet point descriptions and/or in your product images.
9. Keep it simple
In order to prompt someone to buy your product, your copy must be incredibly simple. You should be able to read it aloud without a hitch. You should also be able to skim over it briefly with your eyes and not any snags or points of confusion.
If you're reviewing copy that an Amazon copywriting consultant has written for you, make sure to also have another person read it silently and aloud to see if they hit any rough patches.
If you're editing your own copy, wait a day in between writing and editing so that you can see with fresh eyes. This goes a long way towards finding phrases that are unnecessarily complicated and difficult to read.
10. Optimize your copy based on your reviews AND your competitors' reviews
You may have noticed—we mentioned this one several times. You really must be reading your reviews and your competitors reviews in order to continually optimize your copy, and your conversions.
Here's what to look for:
What customers love about your product
What customers love about your competitors' product
What customers hate about your product
What customers hate about your competitors product
Take what customers love and make it shine in your product description. Take what they hate and describe how your product fixes this and improves upon it.
With these Amazon copywriting tips, you can strategically and intelligently improve your search rankings, click through rates and conversion rates. Time to get writing!
Stay strategic on Amazon! Get new blog posts sent to you via email: