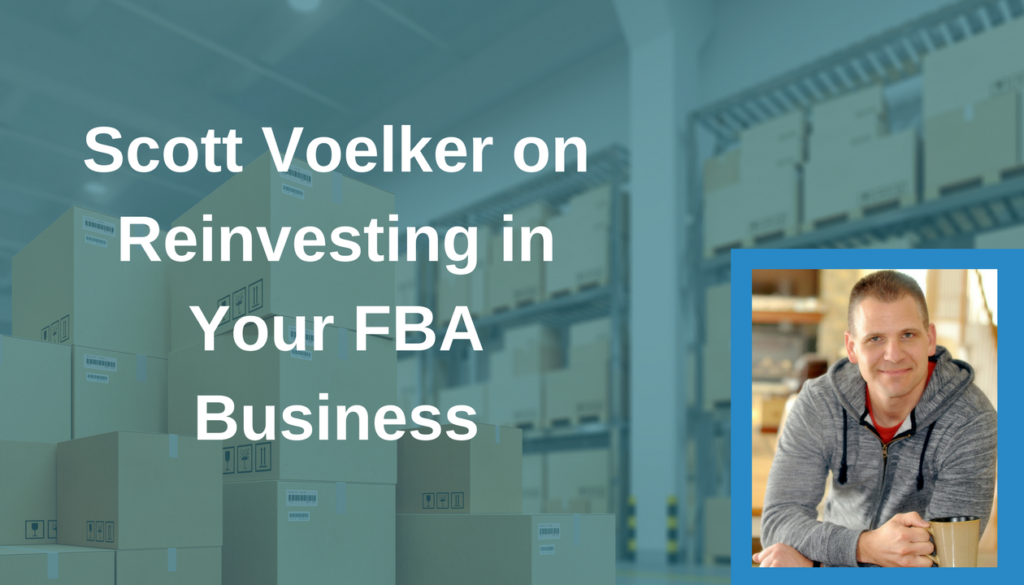 Refunds Manager writer Dayana Mayfield recently sat down with Amazon seller, trainer and podcaster Scott Voelker to get insight into the best ways to reinvest in an FBA business.
Highlights:
You're bound to fail now and then
Inventory is your lifeblood
Start lean
Get all the good stuff below!
About Scott and his experience owning and running a business
Dayana: Tell us about your FBA business, how you got started with FBA and of course about your podcast.
Scott: I've been self employed about eighteen years now. My wife and I owned a brick-and-mortar photography business, and that's how we created what we call our lifestyle business, to be with our kids and pick them up from school, and be able to go to all of their events.
We grew that into a six-figure business and learned a lot about business and brick-and-mortar. That was before the internet was what it is now. Then we started selling some of our items, like our templates for Photoshop on eBay and that gave us a little bit of a taste of the online world. That opened our eyes.

Then I started to teach people how we started a photography business without having any formal training in photography or business. I helped a large amount of people in that community. I still run a small community of people who pay in monthly to receive some of our digital products. That's been going on for close to eight years. That's what got me started as far as making a living online.
And then we phased out our physical products and our services with our photography business and we went one hundred percent digital.
What drew Scott to selling on Amazon and how he got started
Scott: I started looking for other revenue streams, and I started to hear this thing about Amazon, and people selling products on Amazon. At first I was thinking only Amazon is going to sell products on Amazon. That wasn't the case at all. I started to hear about retail arbitrage. You take a product that you find in a local store, and you see name brand stuff that's on clearance, maybe 60-70% off, you can sell that on Amazon at full price. I thought oh wow, that's really interesting. That's cool. Let's look into this.
At the the time, we were still doing pretty well in the photography space, so it seemed like a lot of work. Here I was in the digital space, where I was selling information and helping people. And this was work, this was actually going out there and panning through different retail stores. I gave up on that in the short term because it was a lot of work and I didn't have the time for it.

Then I started to hear about private labelling where I could take a product, or take my own product, or take a generic product and then we brand it with our company. Once I started to hear about that, it felt close to a digital product, because I knew that once I started selling it, I could replenish it, versus if you're doing retail arbitrage, you're always looking for new products.
With this, once you have an established product or a suite of products, it's just rinse and repeat. You're just reordering on that particular product. So I decided to give it a shot. This was two-and-a-half years ago. I can't believe it's been that long already.
I invested about $5,000 in my first product, and we launched it, and started to get some sales. Then from there, we grew that to where the first year we did $300,000 in sales. We did a 30-40% margin our first year, which wasn't bad. It made me aware that I should pay attention to this.
How Scott helps out and invests in other Amazon sellers
Scott: I started to post in Facebook groups and help people who were just getting started, and I was a newbie as well. I started to get a lot of questions from people. I thought you know what, I'm going to create my own podcast to document my story and maybe just interview people that are similar to me, so I can learn through that process and help people.
And then I started the podcast. That's going back just over two years now. Once I started the podcast it just took off, people that were already in those groups, that were already communicating with me back and forth started to listen and started to share. And that just took off. Now, currently we have almost 400,000 downloads a month. That's turned into its own business in itself, because I teach people how to get started with their own businesses.
A lot of people think I started on Amazon and they ask how can I do that. It took a lot of other experiences to understand that opportunity. I like people to understand that whenever you're doing anything, whether you start on Amazon or on eBay or your own website, you're going to learn through that process and that's what really, to me, the way I look at it is I'm always learning something that's going to help me in that next thing, that next business venture. As an entrepreneur, you're always going to have opportunities. And you're always going to have to say yes or no to certain ones.
Dayana: So do you have multiple product lines?
Scott: Yes. I started in it just to dabble. For me, if I could have made an extra $5,000 in recurring income a month, I would've been happy–and I'm still happy with that. For most people, that's a good chunk of money. That's mortgage payments, and car payments, cost of living. Now, because of the podcast, it's allowed me to partner with other businesses. I've got three businesses that I work with now. There's one business that we're just about three months in and we're getting ready to launch a suite of products. I'm funding that and I'm marketing that. The other person is the front of the business. So I'm investing in that business.
The very first reinvestment you should make
Dayana: What was one of the first ways that you reinvested in your FBA business? That first, small, simple step?
Scott: Reinvesting back in that same product, and then thinking about product number two. When you get into this space, a lot of people want to put a dollar in and get two back immediately, and that's not the case. With any business, you should be reinvesting back in the business.
Some people say you should wait a year before drawing any money. Some people say you should wait five, six months if you have profit. The book Profit First helps people understand that you need to pay yourself as if you were an employee. I like that mindset, because you're kind of like a line on the expense sheet. Whether that's initially $500 a month or $1000 a month, I think that you should definitely be reinvesting a good portion of the money back into the business.
When you're doing physical products, there's inventory that has to be purchased. So you're always reinvesting back into the inventory, and then yes you can pull out some of that money into your pocket. But for people who can do it, I'd like to see them go longer in reinvesting in the business to expand it out, because it does take money to keep it going. But then there comes a time when you say okay, when I can start pulling money from this business venture.
Dayana: So the next step would be to move on to a complimentary product, rather than to just keep sourcing the same one?
Scott: Once you see that you're selling 500 or 1000 units a month, you're going to know how much you need to invest in inventory. You're going to know what ordering a 1000 units will cost, and then from the revenue left over, you can either put that in your pocket or reinvest in a new product.
Add people to your team only after you understand the entire selling process
Dayana: What about tools or systems or people? After some larger successes did you reinvest in anything in terms of creating more efficiency?
There's definitely a time when that comes into the mix, but in the beginning, you're bootstrapping. Instead of having other investors come in or in other people come in and start to weaken or dilute the money coming in, you need to know all aspects of the business and how to operate it on your own, and then you can start hiring VAs or whatever else. I would hold off on doing that until you absolutely see that you need that. I think everyone should know how to operate the business, and know all aspects of the business, and then you can start hiring VAs to actually go out there and help in the process. Once you learn the process, you can delegate the ones that you don't necessarily have to do.
For example, right now I have a virtual assistant and what he does is basically get everything researched and he'll communicate with the sourcing, and he'll back and say alright I already went through all of the sourcing, and all of the research and these are the three I think we should go with next, and I will evaluate them, give my stamp of approval and then we're off to the races. So I don't have to go out there and do all of the product research and all of the sourcing. There are actually two businesses now where that's happening. Then I can focus on what I'm good at, which is the marketing side of things.
Dayana: That seems like a high level skill. Lots of times when people talk about getting a VA for their Amazon business it's a lot simpler tasks. So that's why you need to learn everything yourself so you can train that person. Did you train that person from scratch?

Scott: Absolutely, yes. And it's taken time. It started with, these are the ten products that I'm thinking of. Go out and there see if we can source them. And then they would bring back the top three sources, and I would be able to say okay go with this one.
But now, because of product research, we already know the market that we're in so if we already know that, and we want to find products that are related to this, go out and find them. And this is the process that I would do it. And then I would just record my screen through screen flow, show them me working through the process, and then we would come back and talk about it in a week. Maybe they only came up with five products, and I say why and they say because of this and I say don't worry about this. And as we're training them, they're eventually going to be able to do it on their own. You're investing in that person to help you in that process, and it is going to take time. You're not just going to hire someone off the street and say you're in expert in this, go find me product.
Dayana: Then you can build out those lines of related products?
Scott: Absolutely, that's the key really.
Warning: do your product research
Dayana: Once FBA sellers are already started and they are up and running, what's one thing you think people do wrong in terms of reinvesting?
Scott: I think the biggest thing for people is number one, they'll get excited and then they'll not look at the data. There are tools for this process. I think tools are great, they help us be more productive and they help us find things quicker.
For example, if you're looking at a garlic press and you're in the kitchen space and you're looking at that product on the surface, you see they have a bunch of reviews, a bunch of sales, so they must be successful. But the thing is they could have just ran a massive promotion, and it's skewed the numbers, and now you are just basing it off that one month.
So what I like to is look at the history, with CamelCamelCamel or Keepa and those will allow you to see the history of a product, meaning how long it's been selling, and also the different dips, and how they've adjusted their price. Often times if they've just raised their price, it could be that they're about to run out of inventory and they're trying to slow their sales down–which I'm not a fan of, but that's what people do. So that would show that the demand is high. It can also show me trends. Someone might get excited about a product, and not realize that it's a trend that's on the down, and launch it and not understand why they aren't getting sales.
The other thing is is people will pick a seasonal product and then launch it after the season, and then they have to wait until the following year. A lot of this comes down to product research and a lot of people are too quick and some people take too long. The people who jump it too quick, I'm okay with that because they're going to learn from that process. I just don't want to see someone do that with a 1000 units. Do it with 300-500 as a test run. If you make a mistake, you can liquidate that fairly easily and then move on to the next product. The other part that I see people mess up on, is they get started, they might make that mistake, and then they say this doesn't work I'm moving on. And then they go to the next business opportunity.
Failure is a given, and here's why you don't need to worry
Dayana: Have you ever had a product totally fail?
Scott: Of course, absolutely. I share that publicly, not the product, but I share those downfalls. It's important that people realize that in any business, you're going to have ups and downs, you're going to make mistakes.
Back before my photography days, I was in the construction business with my father and his partner. The crews used to go out and measure windows and doors for houses, and they would make a mistake, and we'd have to eat that cost. That window might have been three inches too small. We either gotta eat it or pay extra labor to make it work. Mistakes happen in business, it doesn't matter if it's this business or a construction business. And that's okay, as long as you know how to pivot and how to adapt.
I figure, I'm okay, as long as I know how to liquidate. If you hoped to sell something for $20, you can always liquidate it for $10.
There are sites out there, deal sites, that have a massive audience of people looking for deals, and then you just sell them all. Or you lower your price on Amazon and that will usually liquidate them. To me, there's not a lot of risk as long as you've done your research properly and you can liquidate because you're not trying to sell it for really really dirt cheap.
I definitely share that stuff, because you learn from those. There's two products right now, that to me, they weren't that successful. I'm still selling five to ten a day, which to some people would not be bad, and we're making $10 – $12 per unit, but it's just something that we thought was going to do better and it's not. I don't really want to put more into it. They have really high minimums, and you have to order at least 1000, so I'm probably going to phase that out and move on to the next. I'll get my money back and I'll reinvest it into the next two or three products.
Dayana: Maybe part of the reason people get afraid to start is they know it might fail.
Scott: I have students of mine that will launch two products, and they won't do that well and then the third one takes off, because they didn't stop. They realized what the mistake was. Guess what, if you know what the mistake was, that's a lesson you've learned. You'll take that on to the next product or business. There's so much value in the education that you learn.
Tools that keep things lean
Dayana: Let's talk about the paid systems or tools? Once people are more advanced, what are some of the things they might invest in?
Scott: In the very beginning you're going to go lean. There's research tools out there. There's one called Jungle Scout. A friend of mine, Greg Mercer, created that software. It allows you to find product data. It's able to pull all that data in without having to manually drill down into each listing. Even a few years ago when I started, I had to go click on a listing, look at the data, record it, and then go to the next one. This will pull in all the data on that same page for all the listings that you're researching. And it's not that expensive.
I've also been using a tool by that same company called Fetcher, and it where you can look at your numbers. It'll take into consideration all of your sponsored ads that you may be running inside the Amazon platform. It'll take that out of the money coming in, so it will give you a good idea where your business every second of the day. It will also give you projections on your inventory. Say, according to the past two months, you're averaging this, and you'll have this much left if things go the same.
Investing in people over tools
Scott: As far as VAs, depending on how fast you're growing, you don't need a ton of tools. Google Drive helps us share documents, and we have live updates for everyone. It's not fancy. A lot of people expect some big secret. But that's the secret. Use Google Drive. It's so easy, and everything is there, and everyone on the team has it.
I say, invest in people when the time is right. Not necessarily a tool. Invest in a person to help you. Maybe for customer service. Amazon is very very customer service oriented. They want their customers to be happy, and you should be following up with your customers. Now there's tools out there–I use SalesBacker, which follows up like an autoresponder would in an email sequence, but it actually connects through Amazon. I can prewrite emails before a sale, and then they will get triggered. So let's say something has been delivered, it can send an email that says, "I see your garlic press has arrived. Let me know if you have any questions. And oh by the way, here's a free cookbook to use with your new garlic press. Take care." Then seven days later, you can check in and see if they have any questions and ask if they can do you a favor and leave you feedback. You never ask for a five-star review, you just ask them to let Amazon know how you're doing.
But what's going to happen is someone will email you back from one of those emails, and you have to respond. For the longest time, I was responding to them myself. I had my wife doing it for a while. Somebody might say a part was missing, and we write back and let them know we're sending a new one. Then we keep the customer experience really good.
That's it in a nutshell. Unless you have a ton of SKUs or you have your own warehouse and Amazon doesn't fulfill everything.
Dayana: So customer service might be one of the first ways a seller could engage a virtual assistant?
Scott: Absolutely.
What to do when you run out of inventory
Dayana: It sounds to me like the main takeaways are to reinvest continually to keep up with inventory and try new products and to also protect your time and what you're good at. Other than those things, can you think of a main takeaway that readers should have for this topic?
Scott: I want to highlight what you said about investing in inventory. You don't want to run out of inventory, but it happens. When it does happen people ask, "What should I do? Should I raise my price so I don't run out?"
A year and a half ago, I would have said maybe to do that if you knew inventory would be coming back soon. But now I say let it run out at a high rate, because your conversion rate is going to be very high. And if you run out of inventory, and then when you get it back in, we do a little sales boost with sponsored ads or we have our own email list. I would say let it run out at a high conversion rate, then we get inventory back, you'll pick up where you left off. Versus your conversion rate dropping because you're raising your price.
Never stop growing
Scott: Inventory is important. That's what's driving sales. You definitely want to invest in that. I have one student right now, that did $100,000 in a month, and now just after the high season he's doing $45,000. His biggest problem is keeping inventory and investing in new inventory. There are different ways you can go about solving that. It could be borrowing money, which I'm not always a fan of, but if you can get an investor who is a strategic partner or maybe isn't it in the long term, but just for what they've invested in. They'll get 20% of sales for the batch of inventory they purchased, or something like that.
The inventory is huge, and having some sort of strategic partner that is just helping you fund the inventory and then giving them an attractive offer.
Dayana: That probably has a huge effect on growth.
Scott: Absolutely. You want to be able to grow at the rate that it's allowing you to grow.
The student I'm talking about was at one of our live events. He didn't even have products picked yet, and he was confused and overwhelmed, and he went ahead and launched after that event, and now his problem is how to fund all the new products that he wants to launch and how do I keep inventory in because I'm doing $50,000 a month. That's his problem now. His problem before was how do I get a product launched, and now he's running into the growing pains.
It's just another set of problems.
Dayana: Mo' money, mo' problems.
Scott: Exactly. It happens. We should really highlight that. A lot of people in business they think once I get to making $30,000 a month I can sit back and relax, it'll feel great. Once you get there you're going to realize that there's another set of problems, and you're always going to want to go to the next thing. That's what pushes us and motivates us. Tony Robbins says "If you're not growing, you're dying," and I believe that. You want to be able to go to the next thing.
There's going to be struggles. There's going to be highs and lows throughout the entire journey. Just embrace it and be willing to learn along the way.
Where you can connect
Connect with Scott Voelker and his guests at The Amazing Seller podcast, and reach out with a question before the next Q&A show.