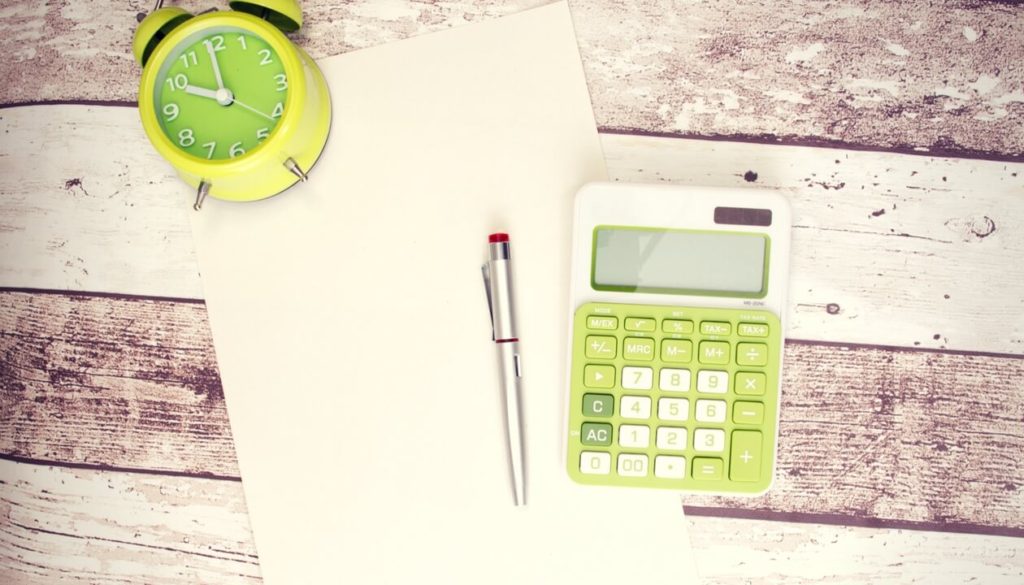 Outsourcing your warehousing and fulfillment so you can source great products isn't just a dream life for many Amazon Sellers, it's a business model. One of the first things you learn about when you discover FBA is the revenue calculator.
The Amazon FBA revenue calculator can look a little overwhelming at first glance when you see all the data fields, but it is incredibly simple to use.
What is Amazon's FBA calculator?
The Amazon FBA calculator gives you a good estimation of your profit margin to see if a custom product is worth selling. Or, it can give you an exact estimation of your profit margin if you're planning on selling something that is already offered by another Amazon Seller. Maybe you're wondering if you could source something for cheaper and by extension sell it for cheaper than another Seller? The Amazon FBA calculator is where you'll find out if the effort is worth the potential profit.

Discover how much you will make on the sale of an item before you buy it via retail arbitrage or wholesale order.
The data that provides the profit margin can be broken up into three parts:
Revenue
Cost
Fulfillment cost
Your revenue subtotal is based off the potential sale price and shipping cost. The cost to you, the Seller, comes from the Amazon referral fees, which is Amazon's commision. And finally the fulfillment cost is where all of the FBA fees come into place–you can see exactly how much you'll pay for the convenience of outsourcing warehousing, shipping, and customer service.
Amazon's cut of each sale typically falls between 8 and 15%, depending on the category, with Amazon-device-specific accessories being the highest at 45% and personal computers falling to 6%. You can find the full fee table here to know which categories allow you to retain a high amount of profit margin.
How most sellers use the FBA calculator
Most Amazon Sellers use the revenue calculator when they're first figuring out what to sell on Amazon.
If you'll be selling a product that is already for sale on Amazon, then using the FBA calculator will be quick and easy. All you have to do is find the ASIN on that product's page and enter it into the FBA calculator with the amount you hope to sell it for.
In this example, we would be selling a ConAir hair straightener at $22.99 to make $16.46 from the sale, meaning our purchase price for the product would have to be well below that.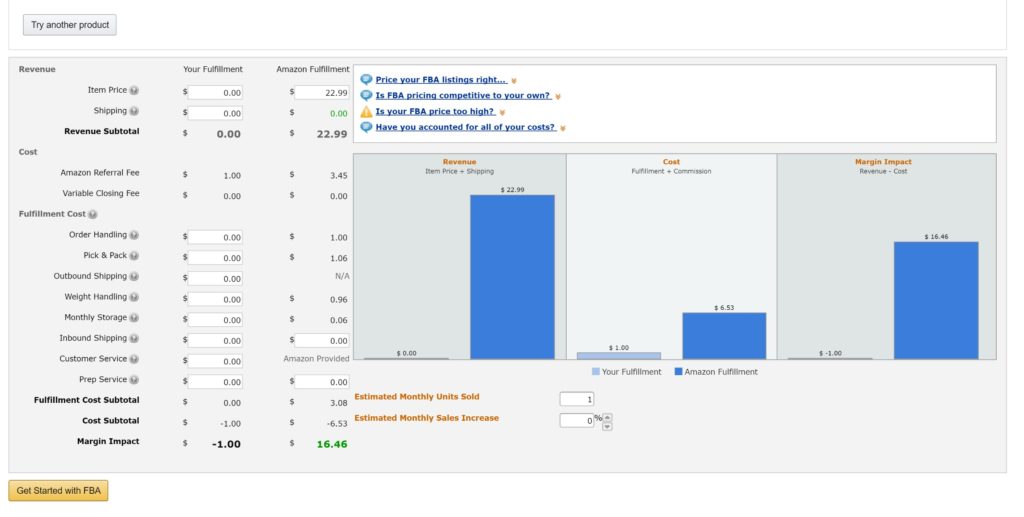 If you'll be selling something brand new, like a white label product, you can search for similar items and then enter the ASIN from one of those items to get an inaccurate estimate.
You'll need to know your product's weight and dimensions and either add that into the calculator or find something with similar specs. If you try searching for a similar product, then be sure you're looking in the right category. You want to find a product that is being listed in the category you'll be choosing if there's potential overlap.
Many sellers know right off the bat that they want to use FBA, so they don't worry about entering any information in the column on the left, which allows you to compare the FBA profit margin with your own fulfillment option. But for Sellers that use a hybrid model (only outsource certain products to FBA) then the column on the left is very important, and you'll want to try and estimate the cost of packaging and shipping the item yourself, as well as customer service time.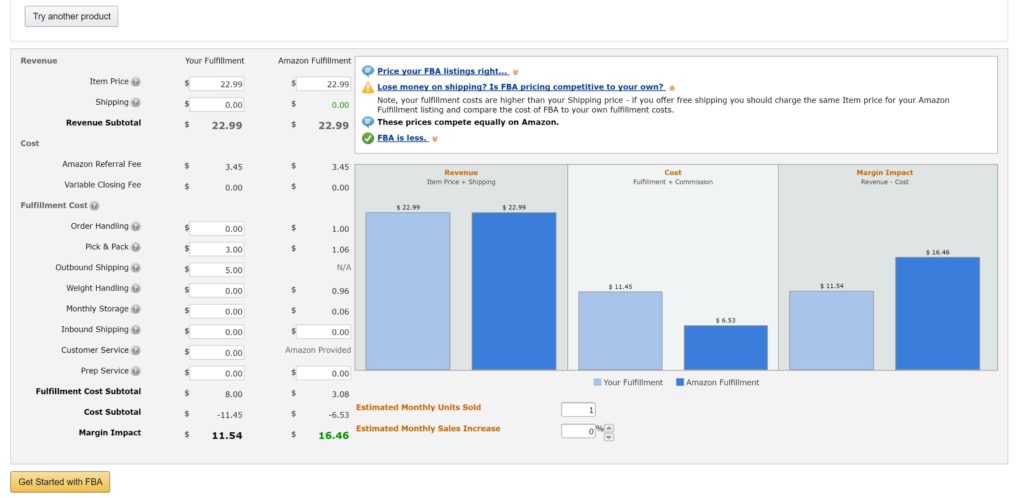 Why your work with the Amazon FBA calculator isn't over yet
Most Sellers think their work with the FBA revenue calculator is done after the first few attempts. You've got your accurate estimates, so you're done here, right? Nope. That would be wrong.
The Amazon FBA calculator is designed to show you how much money Amazon is taking away from you so that you can sell on their platform, so of course you'll want to monitor that amount and the accuracy with which those fees are applied.
There a couple of variables that are of concern: the Amazon referral fee and the weight handling fee. Both of these can be processed inaccurately. Let's say that a hair straightener you sell is 12 ounces, but Amazon is accidentally charging you for a 2-pound product weight. Amazon allows for claims to stretch back 18 months, so if that error has been occurring for that long, that could spell a big reimbursement from Amazon FBA.
The commission can also be processed wrong. If a digital camera that you sell is receiving the same referral fee as something you sell in the office supplies category, then you are being charged 15% instead of 8%. Due to Amazon's massive sales volume, errors like these might not be the most common FBA mishap, but they do happen.
You can constantly review the actual FBA fees charged to your account, or you can offload that process to Refunds Manager. Visit us here to learn how.
Sign up to never miss a post.