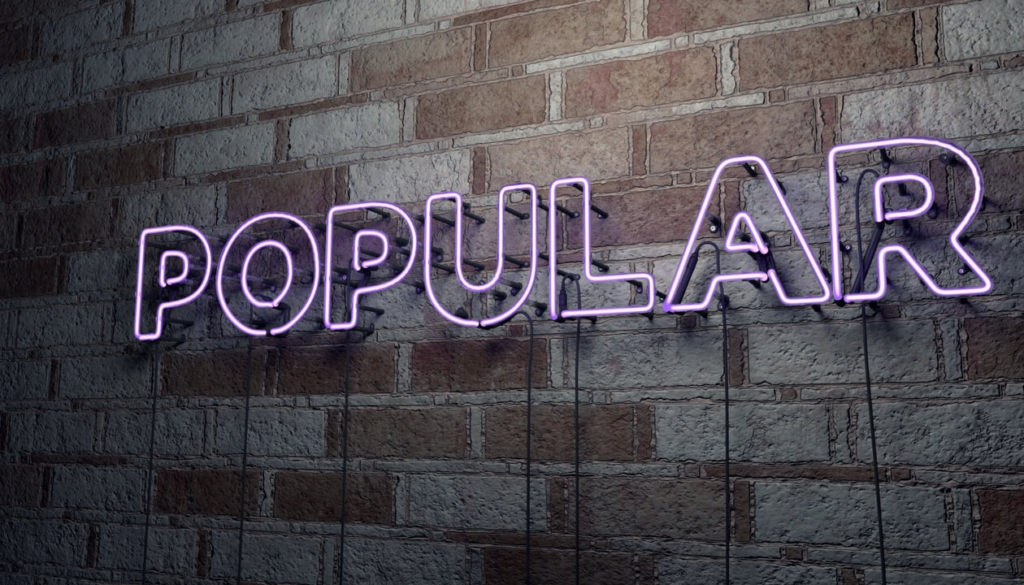 Smart FBA sellers are concerned with every business and product metric they can get their hands on, and one of the most talked metrics about is sales rank.
Products with very low sales rankings (#1 is the absolute best) get extra exposure by being listed in Amazon's bestsellers list and by showing up higher on the page in niche categories.
What is Amazon sales rank
Amazon sales rank is a number given to each and every product on Amazon. Sales rank shows how well the product is selling relative to its category, but is not intended to help buyers or sellers compare similar items.
Rankings can be in the single digits or in the millions, and each products' number is updated hourly.

What factors impact Amazon sales rank
Sales rank is affected by purchases only—not search data. Recent and historical purchases come into play, meaning that the sales rank is continually fluctuating.
Because the rank is relative to overall sales in a category, you could see your sales rank go down even during a week where you have had higher than usual sales volume. This could be because there was higher sales volume across Amazon overall and products in your category performed better.
How to find the current rankings for any product
To view sales rankings for your own product, simply click the Inventory Management page inside of Seller Central.
To scope out sales rank for a competitor's product or something you are considering sourcing, you can head over to Amazon and search for the actual product.
Let's take a look at the sales rank for Zoomer Kitty: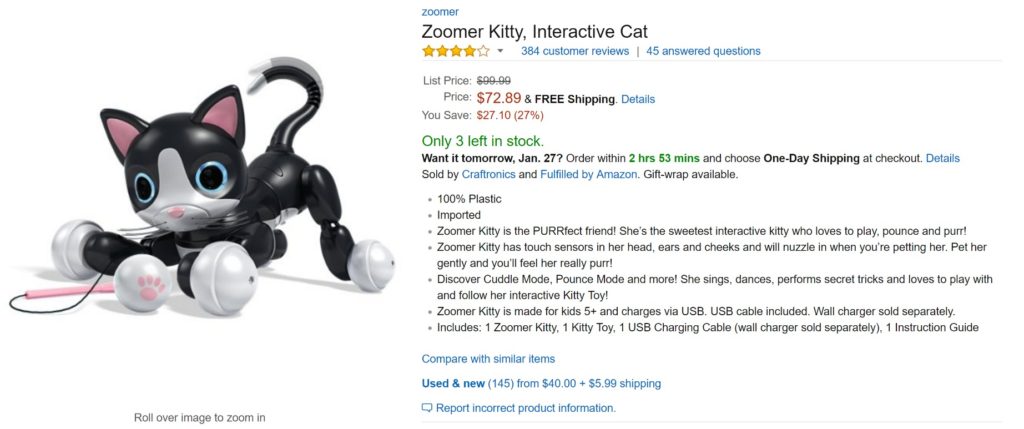 Just scroll down to the Product Information section of the product page: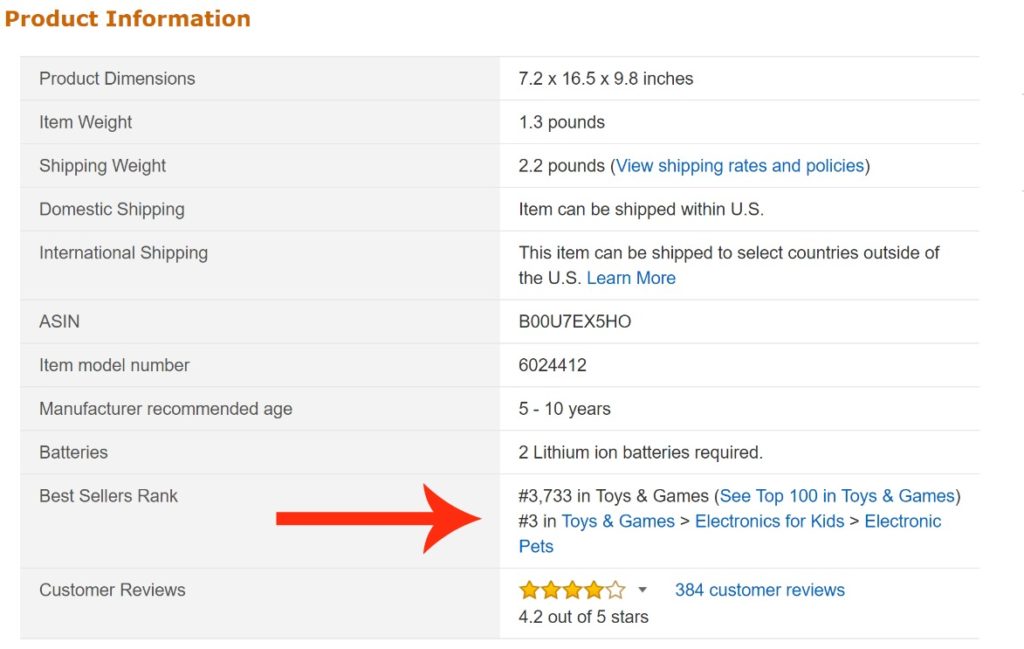 Towards the bottom of the Product Information section, you can find "Best Sellers Rank." Not only will these rankings teach you about the success of certain products, but you'll also encounter subcategories worth selling in that you may not have thought of yet.
What Amazon sales rank CAN tell you
Sales rank is intended for reviewing popularity relative to a category.
As of today, the black and white Zoomer Kitty is #3,733 in all of Toys & Games, but ranks as #3 in the subcategory Electronic Pets.
Just goes to show you how important it is to have products in a variety of subcategories and focus on ranking well at the sub or sub-sub level first.
Amazon sales rank can also be a good indicator of whether or not a product has had any recent transactions. However, because it pulls both historical and recent data, it's a very limited metric for just about anything other than relative popularity.
What Amazon sales rank CAN'T tell you
Amazon sales rank can't actually tell you how successful a product is in the long run. If a product has had no sales in 4 weeks, but suddenly sells multiple units in one day, then the sales rank will improve temporarily.
This is why when you're doing any research into yours or a competitor's products you need to look at sales rank often over a longer period of time: weeks or months.
When viewing your sales ranking to monitor the health of your inventory (or when you're reviewing sales ranking for existing products and trying to decide whether or not you want to sell them on Amazon), you can't look at sales ranking alone. You must consider other factors, too.
Here are other things to consider in combination with sales rank:
Reviews: if a product has excellent sales ranking and a high number of positive reviews, it's likely that the sales ranking is an accurate representation of its popularity (rather than the temporary effect of a recent sale)
Competition: when researching new products to sell, don't shy away from those with a very high sales rank—if there is very low competition for an item that doesn't sell often and you have a healthy, established seller account, then that product could be a great opportunity to win the buy box
Pricing: an excellent sales rank can sometimes be the temporary result of a successful promotion, and after the sale price is retired, the ranking might not be as favorable
Why steady sales are important
Promotions and launches are a necessary part of any ecommerce business. But to truly improve your sales rank, you need to also focus on steady, predictable sales.
It's smart to create a launch plan that takes place over a matter of weeks, not days. This will allow Amazon to capture more historical data during the launch and to create a predictive metric of future sales. Products whose sales are more predictable (rather than spike and drop off) get an extra boost in the best sellers rank algorithm.
That's why Amazon PPC ads with a long term focus, as opposed to temporary promotions, can pay off better for improving sales rank.
Sales rank is just one of the many metrics you can use to set goals for your own products or use to research new products. How do you make use of rankings? Let us know in the comments below.
Also, be sure to check out our FBA reimbursement solution and sign up to get automatically reimbursed for misappropriated FBA fees.
Enter your email to receive new posts: