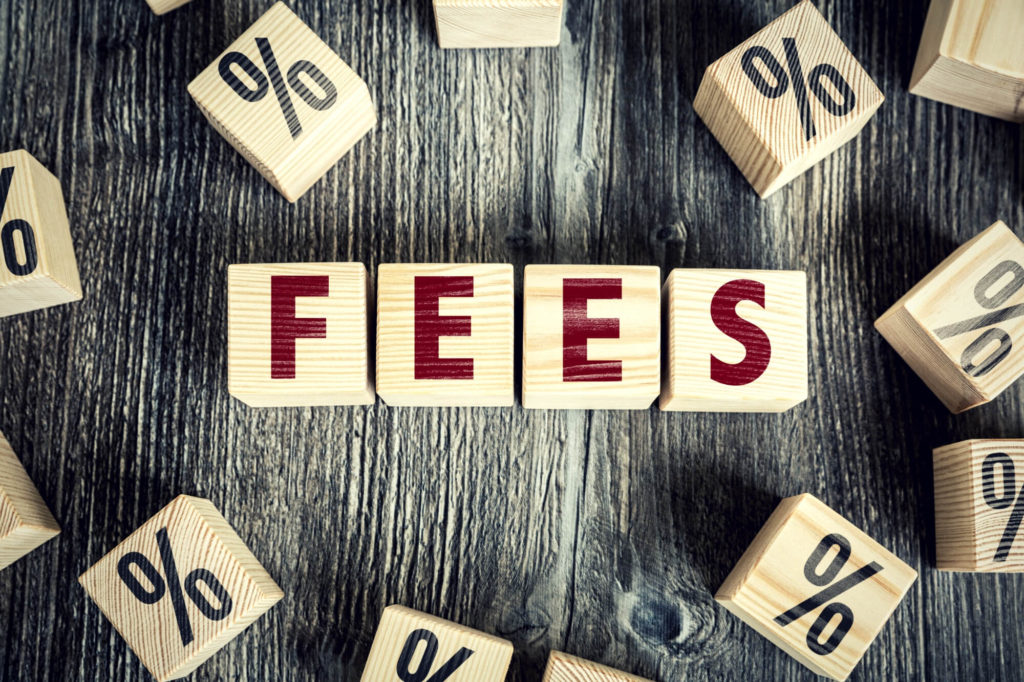 It's that time of year. New Year's resolutions are set. Family travels back home. The days start to get incrementally longer. And Amazon FBA fees change. Say what?

Yes, Amazon FBA is changing their fees. They claim that approximately 40% of FBA units won't be affected by these changes. Read on for the full scoop.
Quick overview of the FBA fee changes for 2019
Are you an experienced seller who just wants a quick rundown into what's new? Great! We've got you covered. Here's an overview of the need to know information:

Changes go into effect on February 19, 2019
There are no changes to fulfillment fees for units in the small standard and large standard size categories (hence Amazon's estimation that 40% of units are unaffected by this year's updates)
Oversize items now have a minimum additional cost, based on a minimum width and height of 2 inches
Long term storage fees don't start until 365 days (woo hoo!)
There are separate additional fees for "dangerous goods" like flammable or pressurized aerosol
Many applicable referral fees are lowering from $1.00 to $0.30 per item, which will allow better profits for low-priced items across many categories
Amazon's motivation for the fee changes
Amazon states that the fee changes represents a few factors: their increased efficiency in fulfillment and decreased cost in storage, as well as the rising cost of shipping.

That's why it makes sense that certain referral fees and storage fees have dropped, whereas the shipping costs associated with oversize items have caused those fulfillment fees to raise.

While many sellers tend to see fee changes as a bad thing (that Amazon is trying to squeeze more money out of you), the truth is that it's within the ecom giant's best interests to make selling on Amazon profitable for small, medium and large businesses. That's why they continually optimize the fees according to their costs, and why some of the fees are actually lower now—not higher.
In-depth guide to 2019 FBA fees

Ready for all the nitty gritty details on the fee changes? Let's dive into it for each category, including fulfillment fees, storage fees, and referral fees.

Keep in mind that all of these fee updates are for the US market!
FBA fulfillment fees
What's different:

Here's an overview of everything within this fee structure that will be changing on February 19, 2019.
No changes will be made to fulfillment fees for small and large standard-size items, but there are very small increases to small oversize, medium oversize, large oversize and special oversize items
The dimensional billing weight calculation for oversize items now has a minimum width and height of 2 inches
Dangerous goods such as products containing lithium ion batteries or aerosol will now have a completely different set of fulfillment fees based on shipping weight and packaging weight
Full fee structure:

Here you can see the old fees and the new fees side by side: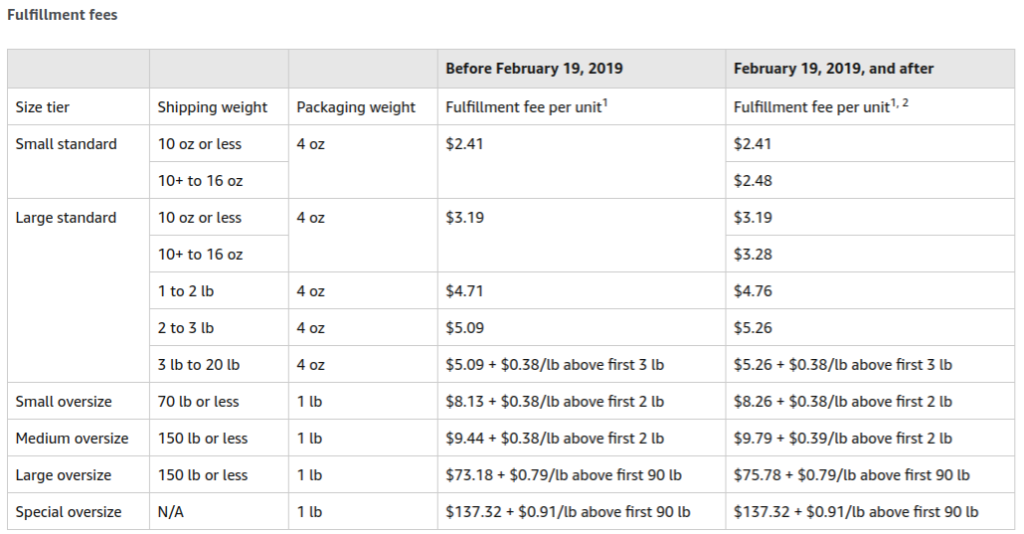 For calculation examples and further details, check out this Seller Central webpage.

Here are the new guidelines for dangerous goods: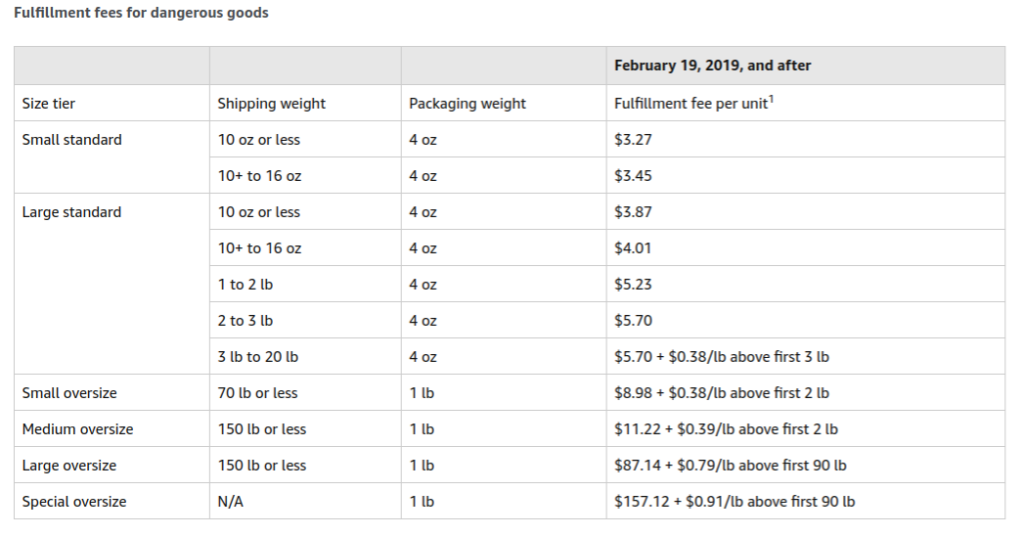 For the full list of what classifies as dangerous goods, visit this Seller Central webpage.

FBA storage fees

What's different:
The inventory storage fees have the most changes this year. Here's a list of what's changing in this fee category:

Long term storage fees will no longer start at 181. All long term storage fees for units housed between 181 and 365 days will cease on January 15, 2019.
Long term storage fees will only be charged starting at 365 days (beginning on February 19, 2019)
Minimum long term storage fees will reduce from a $0.50 minimum to $0.15 minimum per unit.
Monthly inventory storage fees for all products except dangerous goods will not change
Full fee structure:

No more fees from 181-365 days!


The minimum long term storage fee has seen a substantial reduction, which is great news for sellers of small items:


To learn more about these fees and to see some example calculations, visit this Seller Central webpage.
FBA referral fees by category

What's different:

There are no drastic increases or reductions to referral fees in any category. Here's what did change:

Applicable minimum referral fee lowered from $1.00 to $0.30 (great news for sellers of low priced products)
In addition to Electronics Accessories, Furniture & Decor and others, several categories now have two-tier referral fees, such that the percentage is higher on units above a specific amount (with the exception of jewerly, where the higher tier prices experience a lower referral fee percentage). The newly affected categories include:

Baby Products
Beauty
Grocery & Gourmet Food
Health & Personal Care
Jewelry
Full fee structure: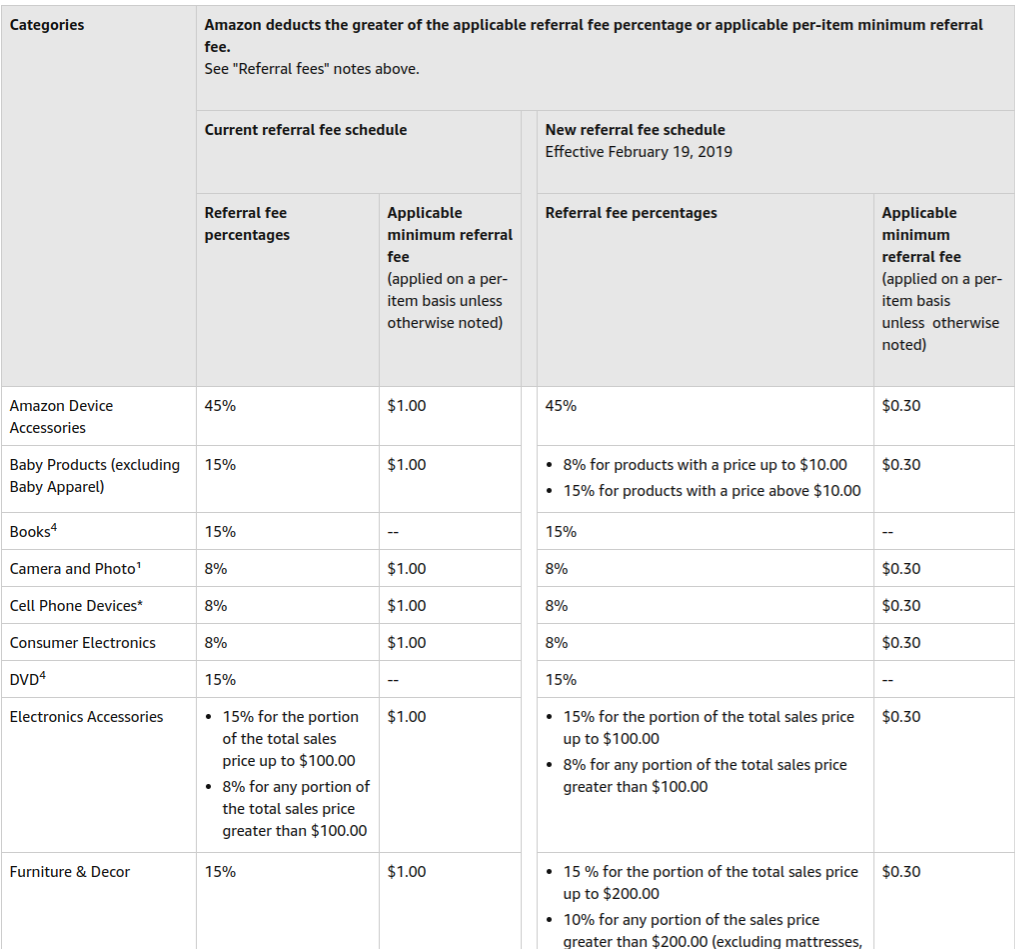 For the full list of categories, see this chart.

Additional changes on the way

In April of 2019, the dangerous goods monthly inventory storage fees will go into effect for items housed during march.

In September of 2019, the Subscribe & Save fee structure will change to make it easier for sellers to provide either a 5% or a 10% discount, thus enabling Amazon to get more products on this program, and to increase adoption for this program across users. When a shopper subscribes to 5 or more products, Amazon will pay for an additional 5% discount on each item and this will not come out of sellers' pockets.

What this means for you

Amazon's executives must have known that FBA sellers are wary of selling low ticket items because it's hard to turn a profit, and they want to even the playing field for these products so they can offer more smaller, cheaper items to Amazon customers.

Undoubtedly, more FBA sellers will try to turn a profit from smaller, lower-priced items with the fees lowering in minimum applicable referral fees, referral fees for low-cost items in certain categories, and long term storage fees. What do you think? Will you try your entrepreneurial hand on lower tick items in 2019? Let us know in the comments below!