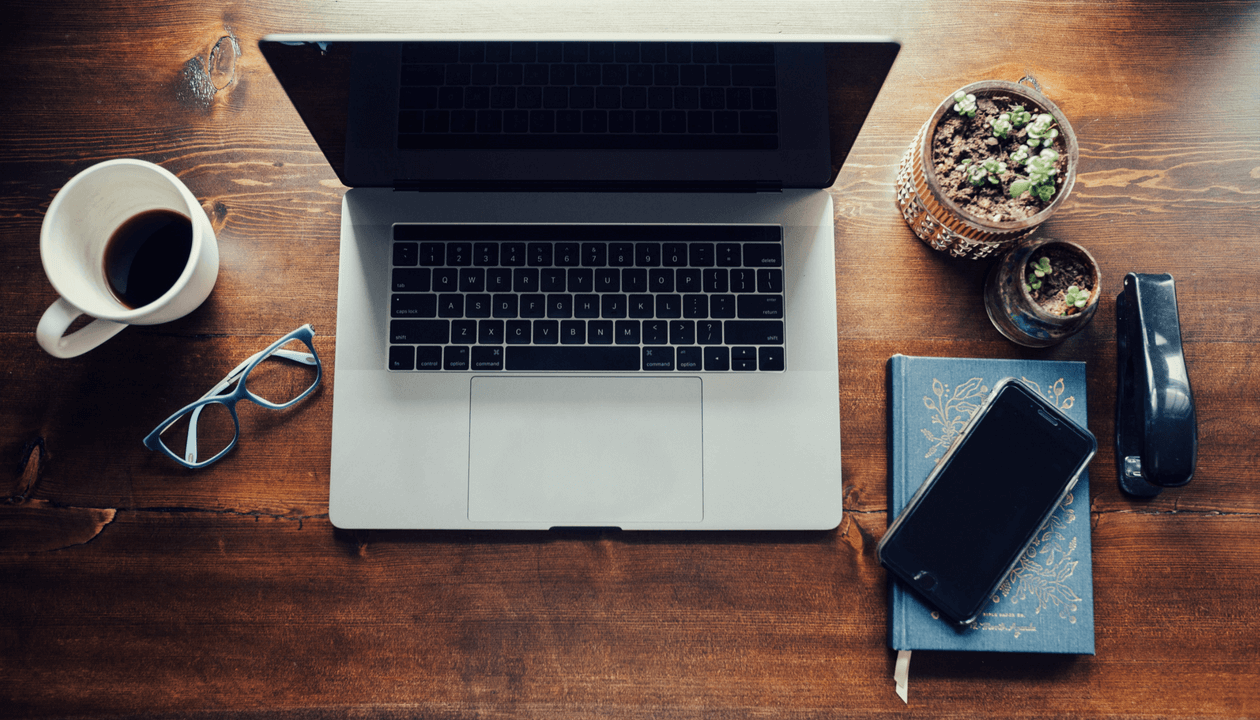 Have you heard of niche bloggers who make thousands of dollars a month as Amazon affiliates?
Jim Harmer and Ricky Kesler of IncomeSchool teach people how to do just that. Pick a niche, write 30 – 60 posts about that niche, link these posts to Amazon products and voila, you have a money making website. Content marketing can be an excellent strategy for marketing an FBA business.
If people who don't even sell products on Amazon are creating sites like this, why not Amazon sellers? Could this be the marketing tactic you need for your next business? Will this work for you?
Okay hold your horses. We get it, you have a lot of questions. Well, we have answers. Keep on reading for everything you need to know about creating a niche blog for your Amazon business.
What is a niche blog?
A niche blog is simply a blog that covers a very specific topic. So while an authority site might try to be the most read site within healthy eating, a niche site will try to amass a following of vegan gluten free raw foodies. Whatever your idea is, drill down.
What's the benefit for Amazon sellers?
A niche blog won't be successful unless it is filling a gap. Similary, an Amazon product won't be successful if it's not satisfying a need. People have to want your product. Content needs to solve a problem.
Is there something (a hobby or business that relates back to products) that isn't being written about online? Are you the person to fill that gap and write about it?
The biggest payoff for creating a niche site is to drive traffic to your Amazon listings and make sales. But an additional benefit is to find needs in the market. While researching a niche site idea, you might think of your next best selling product. Or while researching a product idea, you might come up with an awesome niche site that can deliver traffic to it–giving you the cash flow you need to expand that product line.
What is good quality content?
Without high quality content, your website will fail. People won't engage with your content. They won't click on your links. If the content is really bad, Google may not even show them your content to begin with.
You don't just say, "Here's my Amazon link." You answer all the questions that people who are part of that hobby, business, community, etc. might have. If the topic is about a specific product, you don't sell the product. Instead, you explain what the product is and how it's used.
Here's an example from Jim Harmer of IncomeSchool. He owns the site Dirt Bike Planet, and in this post he talks about the best torque wrench for dirt bike maintenance (including an Amazon affiliate link, of course).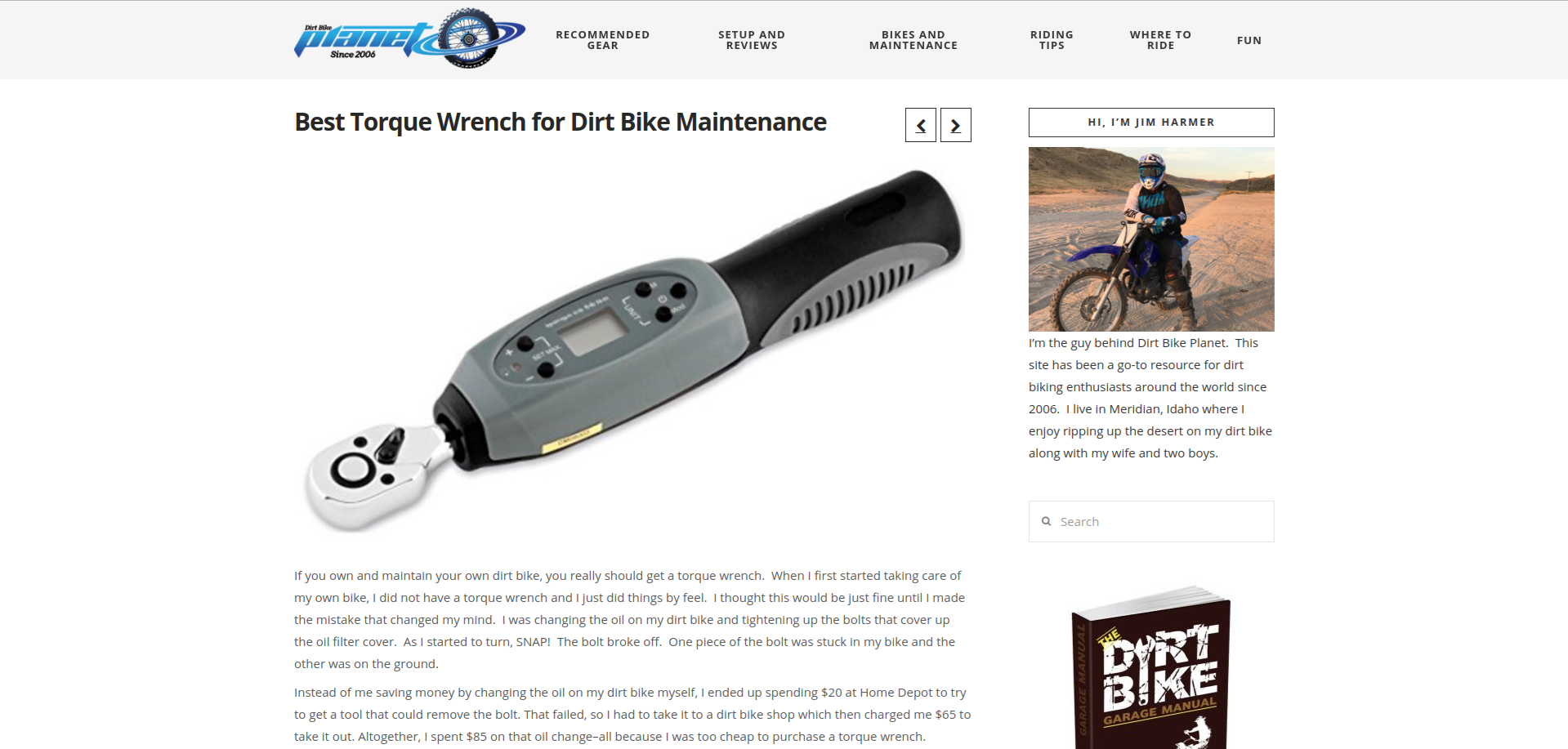 The post doesn't just talk about the single product recommendation. The post covers:
What to look for in this type of product
Different types to consider
Maintenance tips
A cheaper product alternative
The blog positions high for its target keyphrase with no promotion work on social media or complicated SEO work. Quality content is key to getting on Google's good side.
How can you build traffic to a niche blog?
As mentioned, the best thing you can do is write quality content that answers people's questions. SEO experts want you to believe that SEO is complex, but it's quite simple, really.
Just pick one keyphrase per post and build awesome content around that. When people search for answers to their questions, your post will come up.
Search is the best source of traffic for the vast majority of blogs, including our blog, Refunds Manager.
Social media typically brings in far less traffic. Sure, some people are social media rockstars, but these successes are few and far between. When it comes to building site traffic, It's much more important to spend time creating quality content than to write social media posts.
That said, these social sites are known for bringing in a decent amount of traffic because they act like search engines themselves:
So, what about the big guys, Facebook and Twitter? For the vast majority of websites, these social media platforms don't bring in much traffic, but don't rule them out for your overall marketing strategy. They're great for talking to customers and learning what products or information people are looking for.
What keywords should you target?
Once you've chosen a niche topic relevant to one of your product lines, it's time to come up with 30 – 60 post ideas.
Keyword tools are very expensive, and they're also unnecessary.
Instead, try these ideas:
Google search – suggested and related searches
Keyphrases that you pay for with Amazon PPC
Questions that people ask
It's better to write helpful content than to arbitrarily focus on keyphrases. You want your site to answer questions that hobbyists have about your product category, so focus on that, not on satisfying a list of keyphrases.
How can you monetize on that traffic?
When most bloggers create a money making site, they have to figure out external sources of revenue, like affiliate marketing, sponsored posts, and advertisements. Or they might create a course or some other info product.
But for Amazon sellers, you can monetize your site traffic by tying it to your products. Let's say you have a line of fashionable teething necklaces for moms to wear. You can create a niche blog about caring for twin babies, or about raising a baby in a particular city. You can include photos of women wearing your product to make the posts more visually appealing and then link the posts to Amazon so readers know where to buy them.
In addition to that specialized content, you can also write posts like, "what to look for in teething necklaces" and "are teething necklaces safe?" and so on.
Is creating a niche blog worth it?
This strategy makes the most sense for a product line. Whether its kitchen, beauty or some kind of a hobby, a product line gives the most opportunity for coming up with a whole blog's worth of high quality content.
Will a niche blog really sell your Amazon product? The short answer: if your content is needed and your product is needed, then yes. If your content isn't helpful or different from what's out there, and your product doesn't have a special USP, then no.
Admittedly, a niche blog isn't a good strategy for every product. But when SEO goes head to head with PPC (paid advertising), it's more affordable and lasts longer. Blog content lasts for years, whereas a paid click is one and done.
Will you be creating a niche site for one of your products? Ask us any questions in the comments below.

Stay strategic on Amazon! Get new blog posts sent to you via email: