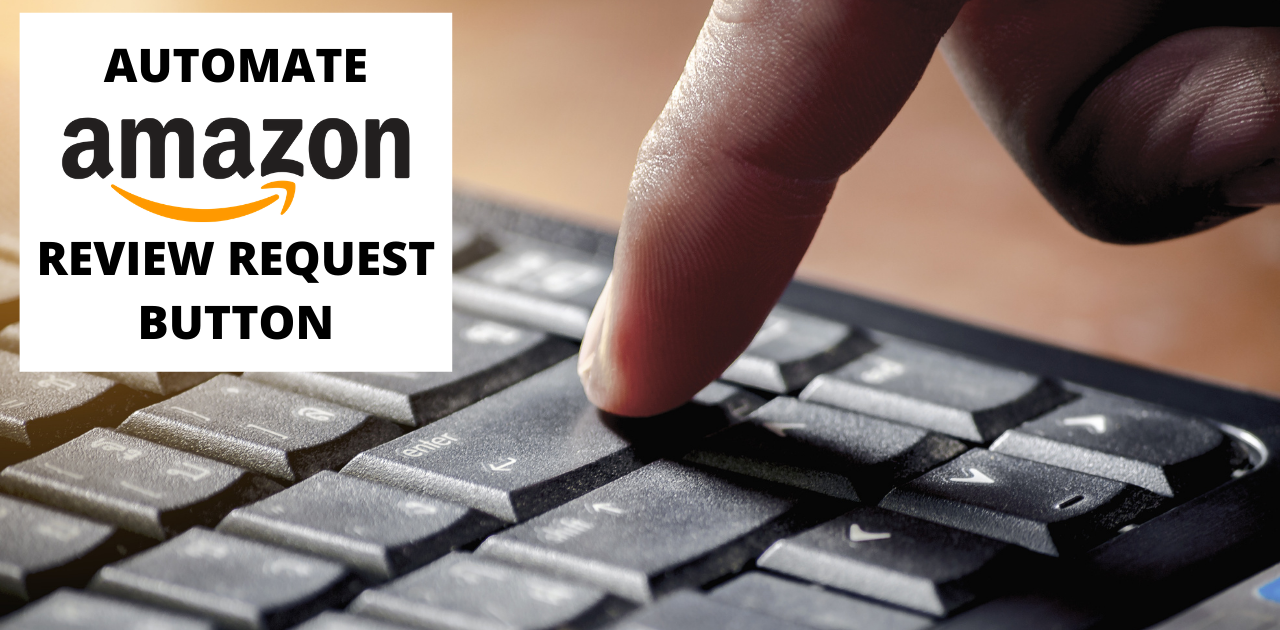 Amazon's Request a Review button for sellers has been around for nearly a year. It appears in the right-hand corner of the Order Details for each individual purchase listed in the Manage Order page in Seller Central.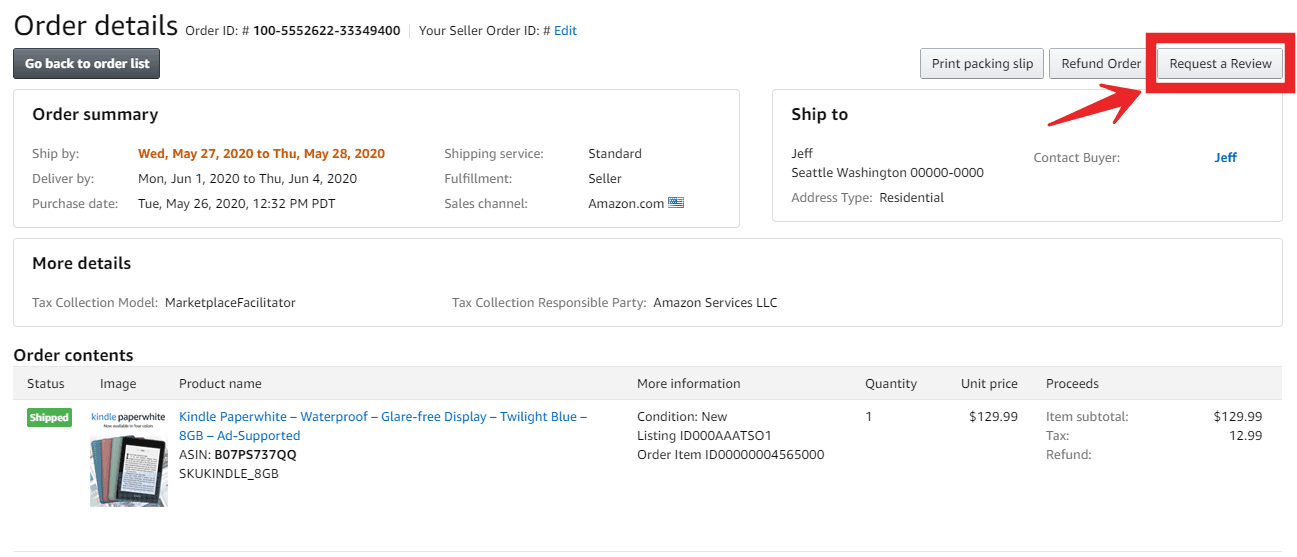 Click the Request a Review button and you are asked if you want to send the request, and upon confirmation the request is sent. The request itself is a simple matter: buyers can click on the infamous five star rating for both the item and the seller experience with the option to leave additional feedback. Recipients can also opt out of receiving future Amazon review requests.
Easy peasy right? Well, it is from Amazon's standpoint. Which is not to say it's not a great feature for Amazon sellers. But it could be a whole lot better in terms of providing customization and brand promotion. Fortunately, FeedbackWhiz has an easy-to-implement solution that combines what's good about Amazon's Request a Review button with the benefits of automated email personalization, and without need of a browser extension.

To fully understand the advantages to automating the Request a Review button, let's first look how it works on the Amazon platform and then how to make it work all the more better using the FeedbackWhiz email tool.
The Pros and Cons of Using Just the Request a Review Button
Good reviews are good for sellers. Obviously. Equally obvious is that the Amazon Request for Review button is a quick and easy way to solicit reviews. An added benefit is that messages are automatically translated into the buyer's preferred language, so there's no chance of misunderstanding that would inhibit a response.
In addition, Amazon only allows you to trigger its button once per order. This helps ensure you are in compliance with Amazon's one review request per order policy. Many sellers are unaware of this rule and may send out multiple review's requests using traditional buyer-selling messaging emails, which could be flagged by Amazon as a violation of its terms of service.
In addition, because Amazon's button generates a simple generic email, you don't have to worry about whether you are complying with Amazon's terms of service, such as not offering incentives, discounts or otherwise trying to coerce a positive review. And if you've been temporarily, or even permanently, suspended from communicating with customers through the Buyer-Seller Messaging platform, you now have a way to send a simple review request to customers you otherwise couldn't do.
But the problem with a simple message is just that, it's too simple. You can't respond to the buyer's response to the Amazon Request a Review button email or take steps to mitigate a negative review. Moreover, while it's easy enough to click a button to request a review, what's not so easy is that you have to do it one buyer at a time—there's no way to automate this process.
Also, the Request a Review button is triggered within a broad 5 to 30-day delivery window. While it's always a best practice to solicit reviews soon after delivery to increase the chance of a response, for certain kinds of products 5 days doesn't allow sufficient time for a fair review. You might want to wait 20 to 30 days to request reviews for exercise equipment, for example, or nutritional supplements or other such products that involve some time to experience to truly assess their benefits. Alas, Amazon doesn't provide the ability to refine the delivery window.
FeedbackWhiz Automates the Amazon Request for Review Button
The email campaign feature provided by FeedbackWhiz builds on the advantages of the Amazon Request for Review button. It adds customization, customization and analytics. And it's easy. Here's how it works:
The Campaign Manager section of FeedbackWhiz contains the option Create Amazon Review and Feedback Campaign.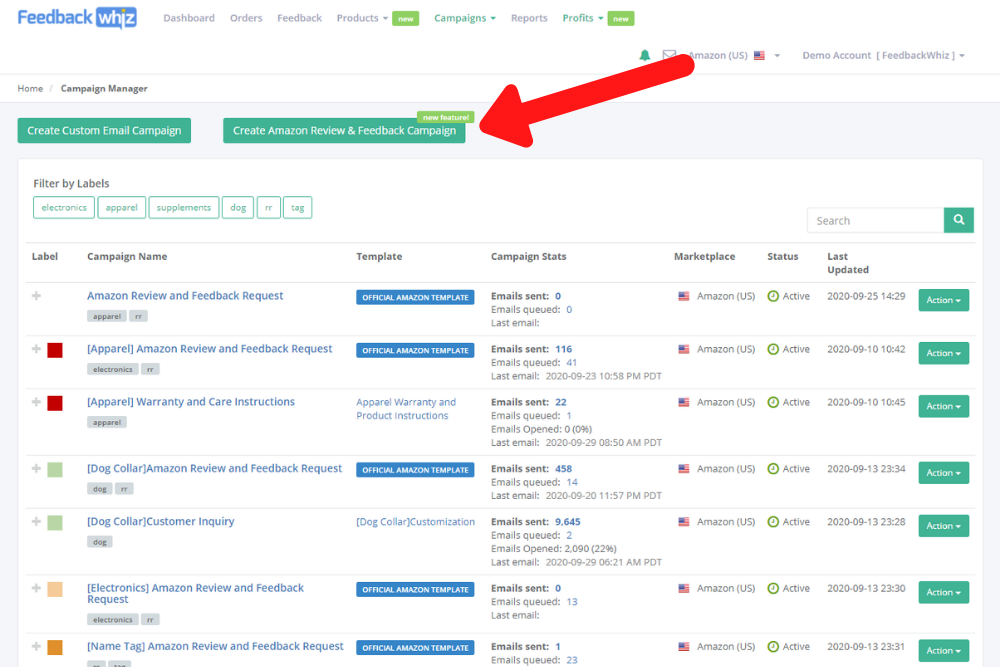 It allows you to:
Name and differentiate Request for Review campaigns. You can segment by different types of product or marketplaces, or any other way you want to analyze a strategy and review your metrics for the defined category.
Use the approved Amazon email template. FeedbackWhiz triggers the Amazon Review Request button. The buyer receives an email template sent by Amazon. Because the contents of the request are controlled by Amazon, there's no worries you might be sending anything circumventing Amazon's terms of service.
Set campaign status as Active or Inactiv Active campaigns are running with the desired settings. You can change the campaign to Inactive and emails are no longer sent until and if you change the status back to Active.
Select your marketplace. If you sell to different marketplace, you can ensure the right emails are sent to the right customers.
Choose a label color. Using a cohesive color scheme for Amazon Request a Review campaigns is a great way to organize multiple campaigns as well as to sort and analyze them.
Fulfilled by Merchant or Amazon, or both. Target customers that are Fulfilled by Merchant (FBM) or Fulfilled by Amazon (FBA), or designate both.
Customization to filter orders. Exclude any of the following orders from email requests for reviews: Returns, Refunds, Promotions, Shipped Late (FBM only), Customers who have already provided feedback.
Set a schedule. Segment SKUs or ASINs by product type to select the most appropriate timing for each campaign. For example, clothing could have a 7-day window because customers by then customers have decided whether they are satisfied or not with the purchase. In contrast, electronics might have a 25 to 30-day window.
Define rules to target orders. Refine your campaigns by selecting rules that determine what kind of orders are emailed review requests. Select from a dropdown list: SKUs (that content certain general search strings, or include or exclude specific SKUs), ASIN(s) you specifically want to target, products.
Buyer Purchase Count Advanced Option. Target repeat buyers based on their purchase count. You can choose to trigger the request email only if they purchased from you before and base it on a certain amount of previous purchases.
Save customized settings. You can create multiple campaigns to set different rules for different ASINs and save each campaign.
FeedbackWhiz is a Freestanding Application, Not a Browser Extension
FeedbackWhiz is a complete seller tool to not only automate email campaigns, but also repair feedback and improve your Amazon product reviews. Moreover, unlike many other apps that automate the Amazon Request a Review button, FeedbackWhiz is not a browser extension. Why is that important?
Browser extensions still require you to have your computer on and the browser open to manually trigger the emails. FeedbackWhiz automatically triggers emails according to the schedule and criteria you set, no further action required.
FeedbackWhiz is more secure than a browser that is vulnerable to internet privacy and security breaches. Why take a chance that your Amazon Seller Central data—the business that is your livelihood—could be compromised.
FeedbackWhiz Combines the Best of Both Worlds—Amazon Templates and Customized Automation
FeedbackWhiz provides sellers with the flexibility of generating reviews using traditional buyer- seller messaging emails or the Amazon Request a Review button. The choice is yours. No browser extension that could expose you to a data breach. Learn more at FeedbackWhiz.