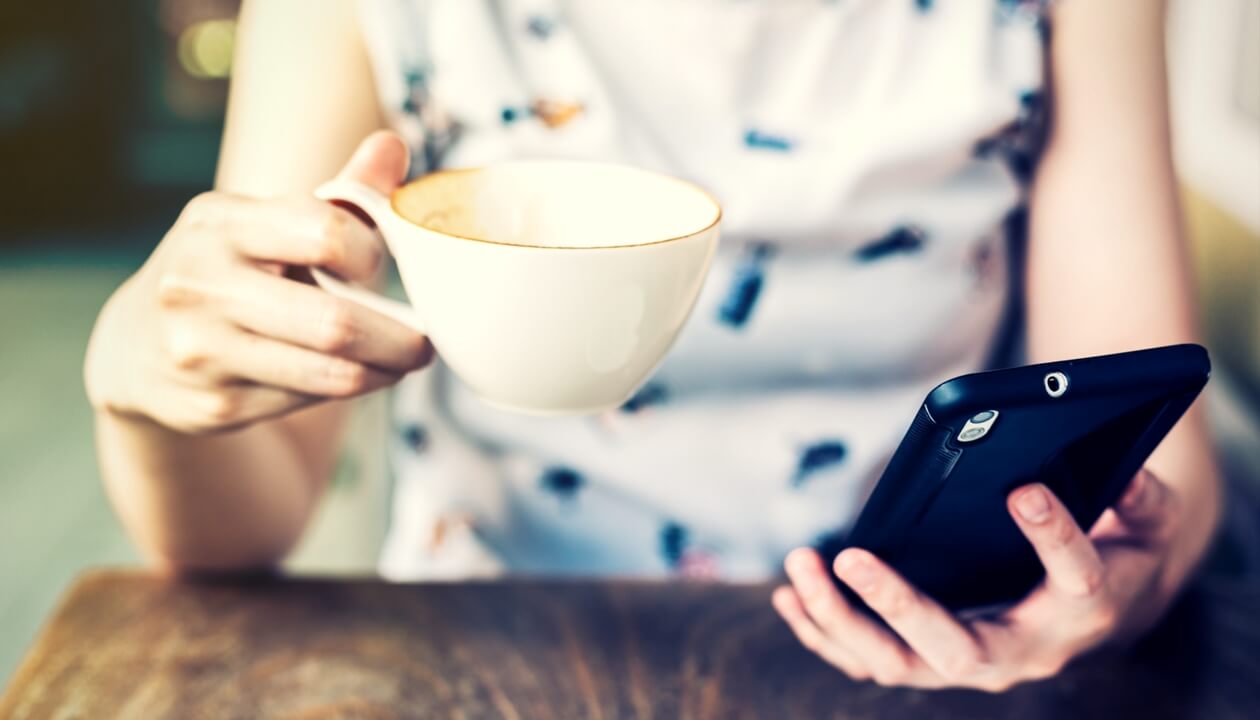 If you're in the world of selling on Amazon (not the world of digital marketing) chances are that you don't even know what influencer marketing is. That's okay. We're here to break it down for you, help you decide whether this form of marketing is a good candidate for driving sales on Amazon, and give you some tips and best practices.
Intro to influencer marketing for Amazon listings
If you've never heard of influencer marketing before, here's a really quick, basic definition:
Influencer marketing is when you pay somene to promote your product to their audience.
Unlike affiliate marketing, where affiliates get a cut from every sell they help create, influencers are paid regardless of whether their actions cause additional sales or not.
That means that influencer marketing could be a huge success, or a total waste of money. Before we get into ways to make sure it pays off, let's take a look at some examples.

Examples of influencer posts for Amazon products
By far, the most popular platform for influencer marketing is Instagram. This platform experiences the most amount of engagement with brand content…that's fancy marketing speak for saying that people actually "like" the pictures that companies post. On other platforms (like Facebook) a lot of brand content goes unnoticed, but on Instagram, companies can get just as much action as pictures your neighbors' babies and your friends' camping trips (if not more).
Because people are receptive to branded content and product shots on Instagram, it's a great place for influencer marketing. With so many options for creating beautiful, stylized lifestyle images of product shots, the influencers have lots of creative opportunities.
Check out this post by Nicol Concilio, a beauty vlogger with over 1.3 million followers. Hairburst products are available on their website, and are sold directly by the company on Amazon.
In this example, Nicol and Hairburst are collaborating with a giveaway to grow their followings.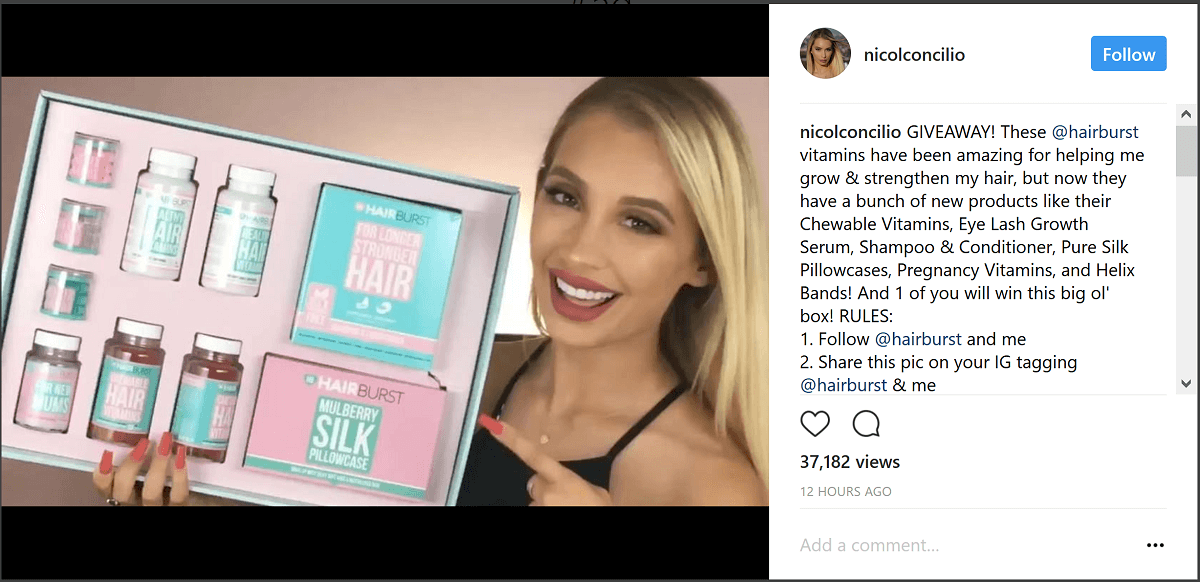 In this example, Instagrammer Zaida Ward is sending followers straight to the Amazon page for a beard comb: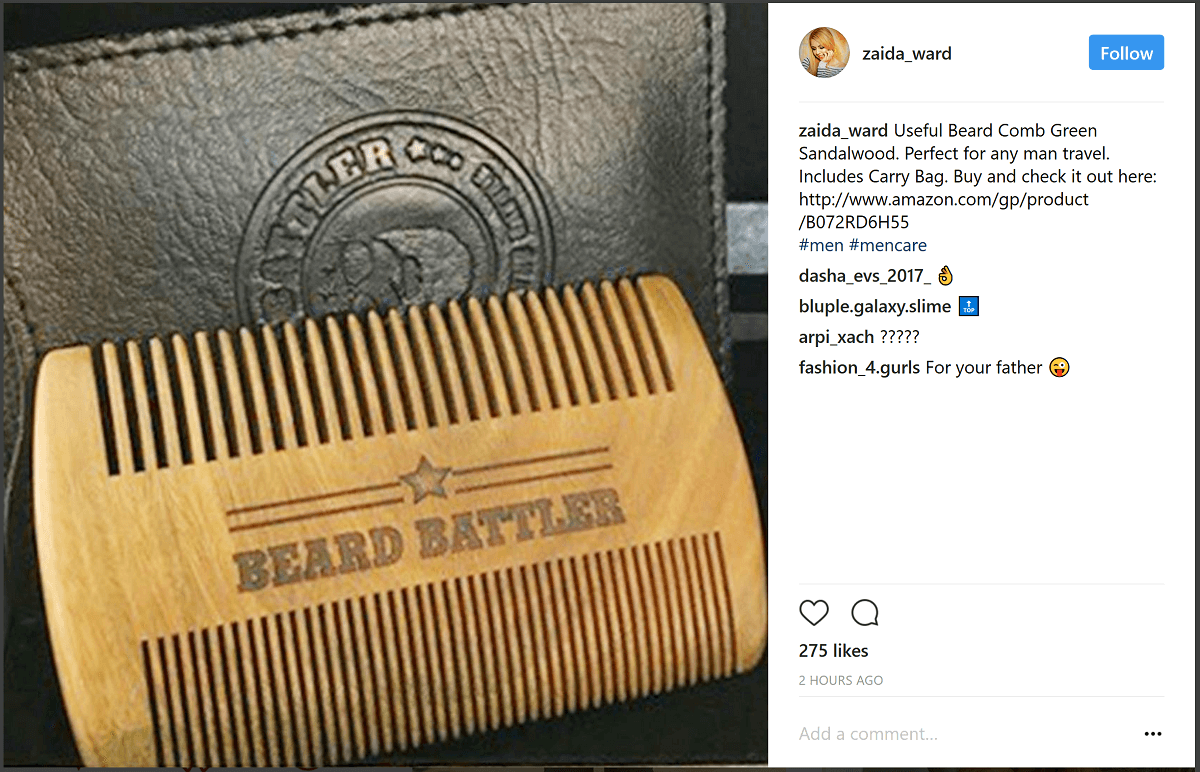 Make sure your page is ready!
A word of caution: don't start influencer marketing before your product is truly ready. You should aim to have at least 15 reviews, and at least a 3.5 star rating (hopefully higher!).
With Amazon PPC, customers are searching for your product, or something similar. But with sponsored marketing, your potential customers are listening to a podcast, browsing through Facebook, or scrolling their Instagram feed. They aren't necessarily in a shopping mindset, and they're certainly not actively looking for what you offer.
That's why it is so critical that you use the power of "mob mentality." After they discover your product from one of their favorite social media stars, they should see other positive reviews on the product listing.
How to find the right influencer
Ok, so now you're curious…how do you find an influencer?
If you're assuming that you just go on your favorite social media platform and find someone with a million followers or more, then you're dead wrong.
Finding the right influencer is not all about the numbers. There are two factors that are far more important:
Their audience is your target audience
Their audience is engaged
What's the point in marketing a turkey call to fans of vegan smoothies? Exactly.
Do your research. First, think of who your ideal customer is. Make sure you have a "customer avatar" in mind before hunting for influencers, that way when you look at social media profiles, read blogs, or listen to podcasts, it's easier to tell if your avatar would be interested.
You can also scroll through someone's follower list to see if the majority of the people are the right sex or age range.
Most influencers have a focus for their platform, making it easy to align your product with their niche.
There are influencers who will post ads for anything and everything just to make money. These are the types of influencers you don't want to engage with, unless your product is very commercial and universally appealing. Even still, you'd probably do better catering to a few niche audiences than going the generalist route.
The next thing to look for is engagement. All social media platforms have very complicated algorithms intended to show people what they want to see. The more that users engage (like or comment) with someone they follow, the more that person's content shows up in their feed.
Engagement will vary by platform. For Instagram, look for influencers whose number of likes average 5% or more of their following and who have at least a few high quality comments on every post. A skilled YouTube star will often average video views of one third of their total subscriber count.
Looking at engagement (rather than number of followers) gives you a more accurate estimate of how many people will see the content.
What your influencer should post
Even though most influencers are very upfront with their audience that some of the content is sponsored, you still don't want the post to come off too much like an ad.
The best influencer marketing looks "organic" (content that isn't paid for) so that people will pay attention to it, rather than purposefully ignoring it and scrolling on.
Your influencer's post should look similar to their other content so that their followers will enjoy it. We're talking similar in terms of style, color, composition etc…
On Instagram or Facebook, they can take a lifestyle shot with your product or you can send them an image that they agree to. In a YouTube video, they can work the product into a greater theme. As an example, they might create a video called "The best gear for amateur vloggers" and include your selfie stick as one of the items.
How much it costs and how to measure ROI
The only way to know what an influencer charges is to ask. Most influencers will have an email address in the bio of their active profiles, so you can reach out to them there.
The majority of influencers charge between $100 and $500, but those with large, highly engaged audiences might charge much more.
What about ROI?
Have you thought of playing the long game, like the Hairburst example? If you do a collaboration to grow your following and offer a giveaway instead of trying to ask for a sale, then you can potentially turn new followers or subscribers into customers down the line. Unfortunately, this method doesn't make it easy to measure ROI, but it is a great option for scaling an already successful business.

By far the easiest method for measuring ROI on direct sales is to create a promotion with a unique claim code for every influencer.
Let's say you choose three influencers to market a fitness product. You could create a claim code for each of their names: KELLYFIT, PETERFIT, AMANDAFIT. You get the idea.
This way, you know exactly which influencer led to what increase in sales–giving you insight into whose audience aligns with yours the best and who you would want to work with again in the future.
Some platforms are easier than others for driving traffic to an Amazon page. Instagram, for example doesn't let you put in links, whereas a YouTube video description can have an unlimited number of links. When creating your campaign, look at what others are doing and ask your influencer for advice. Ultimately, you should find someone you trust and can communicate easily with.
When it comes to influencer marketing, it truly is a jungle out there. Combine that with the jungle that is selling on Amazon, and anything goes! With these strategic tips, you can get a handle on this new opportunity and hopefully increase sales?
Have you marketed your Amazon products with influencers? Please let us know how it went for you in the comments below.
Stay strategic on Amazon! Get new blog posts sent to you via email: